This Parisian apartment has a stylish presidential connection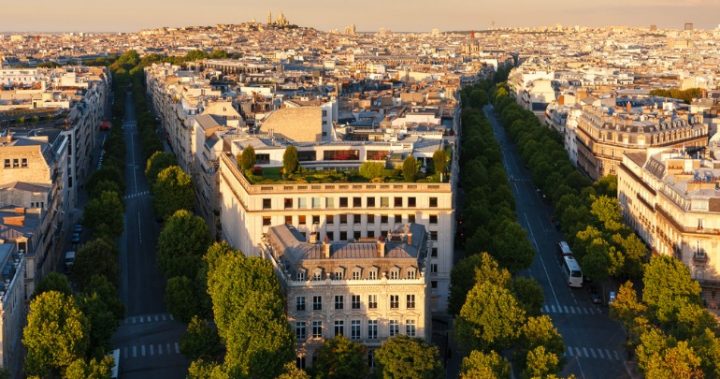 Lee Radziwill, the famous socialite sister of former first lady Jacqueline Kennedy Onassis, has put her Paris apartment on sale for €3.4 million (AUD$5.04 million). 
The pied-à-terre (a French term for an occasional home) is located in Paris's 8th arrondissement. One of the main business districts of the city, the 8th arrondissement has the world-renowned Champs-Élyseés at its centre, with the Arc de Triomphe close by.
But Radziwill has another famous landmark visible from her balcony; the Eiffel Tower can be seen in the distance.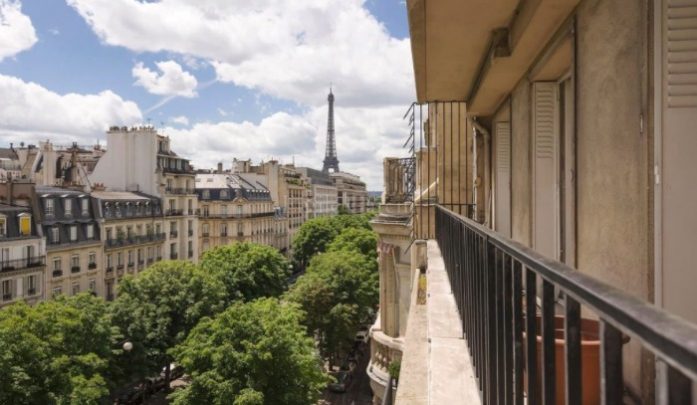 Read more: Want to stay in Trump's childhood home? For $1K, you can
Ad. Article continues below.
While it appears Radziwill's apartment will come unfurnished, there's plenty of decorating inspiration on the estate website.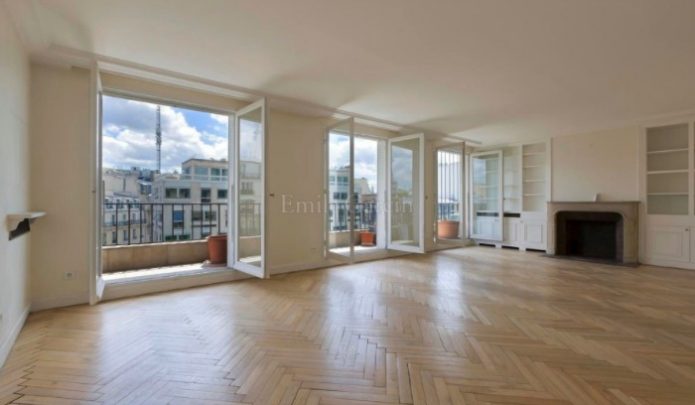 With a charming fireplace, more than enough space to entertain any guests, and built-in bookshelves to create your own personal library, the beautiful reception area is the main draw card.
Ad. Article continues below.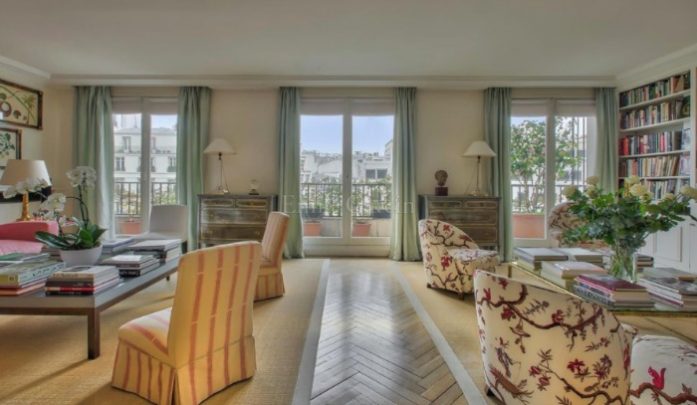 If you're not a fan of the exposed parquetry floors, Radziwill proved that the room could be warmed up with some large, welcoming area rugs.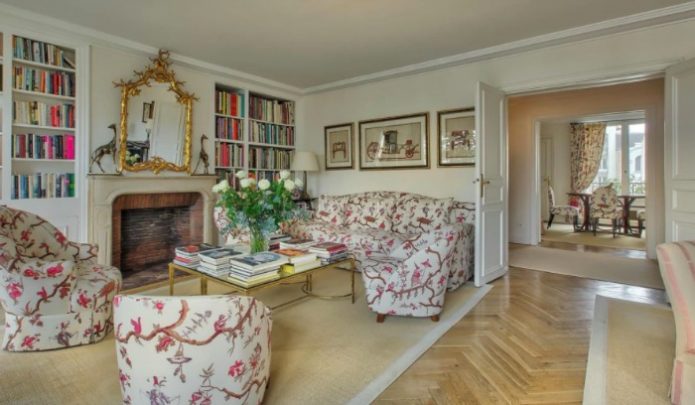 Three sets of massive glass doors open out onto the small balcony, allowing for that famed view of the Eiffel Tower and a glimpse into the surrounding historical architecture.
Read more: The $26M mansion that will transport you back to olden times
Radziwill's apartment is housed in a building from the 1890s and is located on the sixth floor, with handy elevator access to make the journey easier.
Ad. Article continues below.
The apartment features three bedrooms, as well as a smaller bedroom with a shower, two-and-a-half bathrooms, a laundry and a cellar, all charming if not modern.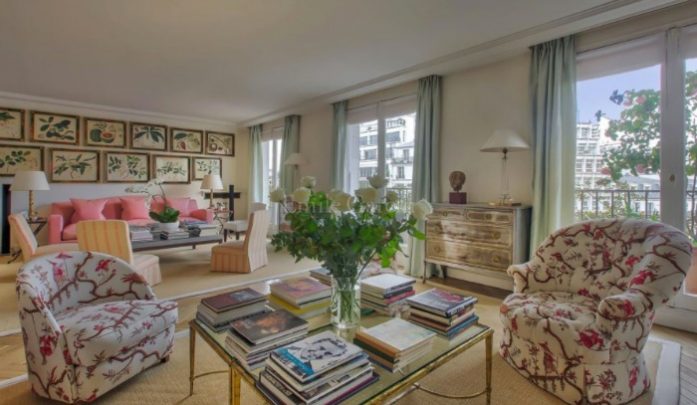 One space has already been transformed into a respectable-sized study that even affords a view outside.
Ad. Article continues below.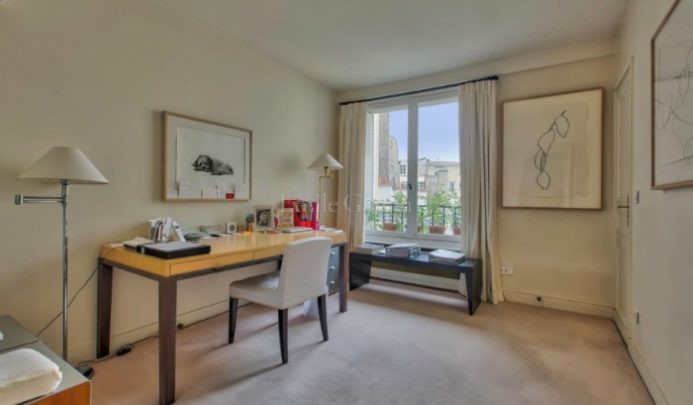 The master bedroom is incredibly generous in size, with built-in wardrobes and plenty of space for a bed and occasional furniture.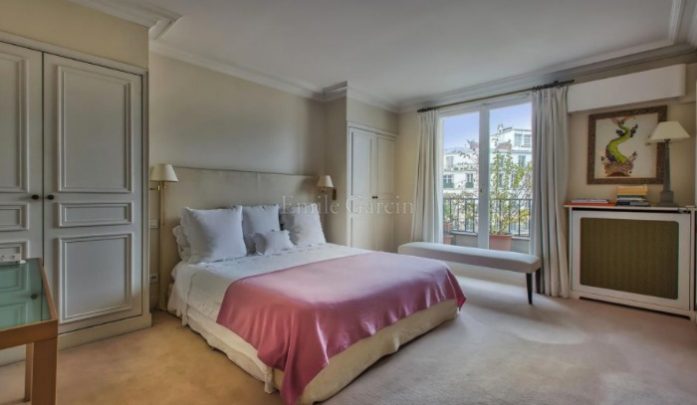 A formal dining area welcomes even more built-in bookshelves; this is clearly a space well suited to the relaxed homebody, who values quality time indoors as much as visiting the nearby tourist attractions.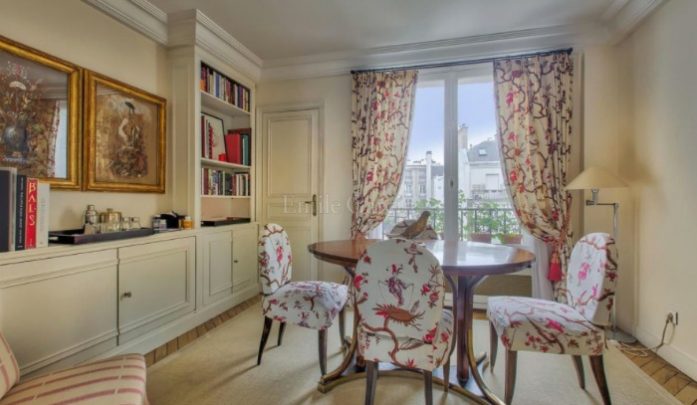 Radziwill used to be a great lover of Paris, saying in a 2013 interview in The New York Times that the apartment is "the favourite of any home I've ever had". However, a Vanity Fair piece in 2016 revealed that her feelings for the city have changed. 
"There's a McDonald's in the Louvre!" she said in the article. 
What do you think of Lee Radziwill's Parisian apartment? Is it worth the price tag?