The one thing every over 60 needs to know about retirement living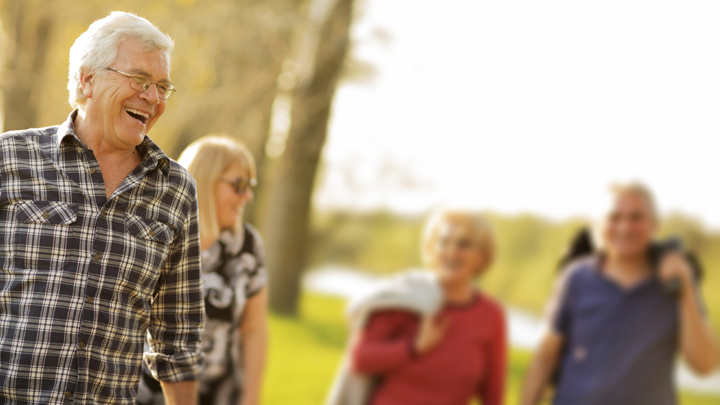 Here at Starts at 60 we endeavour to bring you information on everything that could be relevant to your lives – and one of those things is retirement living. But we've noticed a trend on our recent retirement living articles that we'd like to address: the difference between retirement villages and nursing homes.
There seems to be a lot of confusion around these two things. We ran an article on having the "retirement living" discussion and it was quite clear from the comments that people were misunderstanding retirement villages for nursing homes.
So today, we're going to highlight just how different these two places are and share some real stories from real people.
Here's what you need to know about retirement villages…
Retirement villages are private villages with a range of different living options. There are independent units and services apartments and each give the resident a different level of independence.
They come equipped with different numbers of bedrooms, full kitchens, living areas and outside areas.
They are created to provide retirees with many of the services they need in the one place and often contain restaurants, swimming pools, a gym, a sauna, a medical clinic, a hairdresser, a library, a theatre, gardens and walkways all in the one place.
Most give residents the option of having a garage and they are free to come and go as they wish! For those who don't drive they often have private bus services to nearby shops for convenience too.
They are about giving retirees a happy, stress-free retirement and focus on convenience.
Residents can choose to get involved in the many entertainment options and hobbies available on site or can continue with their commitments out of the village.
If it is needed, care is available on either a temporary basis, say after an operation or procedure, or a long-term basis if it is needed.
There is an abundance of entertaining spaces either in your own home or throughout the village so residents can entertain family and friends just as they would in the family home. The grandkids can even come for sleep overs!
Ad. Article continues below.
Here's what you need to know about nursing homes…
Nursing homes are for people requiring ongoing, high level care.
They are staffed with nurses, doctors and professional carers 24/7 for people who need it at a later stage of life.
These are a more secure environment with more policies and procedures around exit and entry.
Visitors are usually always welcome.
All meals are provided and entertainment options on site are recommended.
You see, the purpose of a retirement village and the purpose of a nursing home are completely different. Retirement villages are about independence, convenience and peace of mind whereas nursing homes are about care and constant support.
Emily Burgess moved into an Aveo retirement village last year and this is what she said… "I am a resident of Aveo Bentleigh and my only regret is that I didn't move here earlier! I always believed that places such as these were "old folks' homes" however it only took me a day to dispel my disconcerted ideas. The service, care and accommodation here at Aveo Bentleigh are 100%. There is never a dull moment at the village with lots of activities such as bus trips, films etc. If you prefer to spend your time quietly there are spacious sitting rooms and a well-stocked library. The village also provides a bus service to larger shopping centres and if you don't wish to cook there is a fabulous dining room, superb in both style and cuisine. The staff are always on hand with a smile and are eager to assist if needed."
Val and Doug Brandon also had a pleasantly surprising experience when they moved… "We inspected Unit 44 at Taringa with our children at Aveo Taringa. We kept a busy life, so were not entirely sold on moving however, upon listing our family home, it sold within the first day.
Ad. Article continues below.
In such a short time we were moving, and for anyone who has moved houses knows that it is not the best of experiences; except for getting rid of surplus goods and things that you should have thrown out a long time ago! While we were unpacking and settling in, and as we ventured out and about we were greeted by other residents with smiles and a happy relaxed demeanour. Invitations to exercise classes (haven't made it yet), coffee in the dining room and some interesting events were plentiful. We even had our flu jabs in the Doctor's room and a haircut with the on-site hairdresser. Life was looking better than I imagined.
We have been here a while now and we feel at peace and enjoy the residents who show a great enjoyment in this community. Our unit is very pleasant and we are learning you don't have to have a lot of things when you are surrounded by a well-planned and kept environment, lovely people, and units that include everything".
So make sure you understand what the retirement village lifestyle is all about before you make up your mind.
Tell us, have you visited a retirement village and been impressed with the facilities and lifestyle available?
This article is sponsored by Aveo retirement villages.  For more information on your lifestyle options take a look at the Aveo website or call 13 28 36. Please note this article was written independently by the Starts at 60 team as it provides insights to, what we feel is, valuable and relevant content for our community.