The advantages of retirement living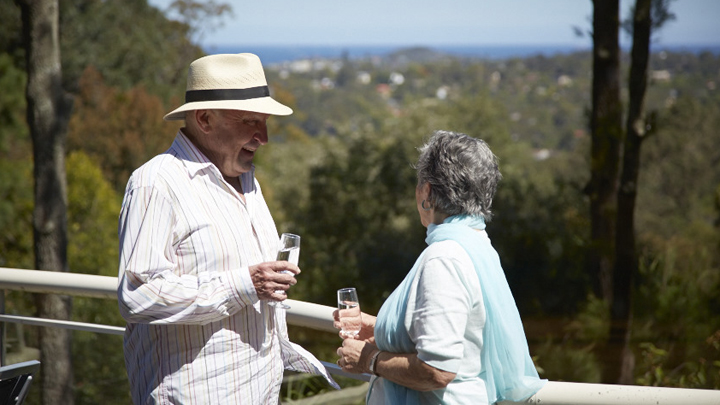 When my friend's parents moved into a retirement village family friends had incredibly mixed feelings about the situation. Some thought that her brothers and her had "shoved" them somewhere so they didn't have to care for them as they got older. Others thought they had succumbed to ageing stereotypes and were doing it because they felt they "had" to. And some even thought that making the move into a retirement village was something that they did because they couldn't really afford the upkeep of their house.
But after living in the retirement village for the last two years, with us all watching on, it is clear these family friends were totally wrong to the point that some are actually jealous of the wonderful lives her parents live and are contemplating their own options.
There are so many advantages to retirement living that don't get talked about that often, and it seems too often people make judgments based on incomplete or incorrect information. My friend's parents wanted a few specific benefits from their move.  They wanted a place where they could leave and go travelling for a couple of months per year.  They wanted people around them that were a bit like them, and they wanted a few facilities for their health and wellbeing, right nearby.
Ad. Article continues below.
Her parents had loved their life in the family home, and tried downsizing to an apartment to see if it suited them too.  They jut felt too isolated and unable to leave the apartment for months knowing their things would be safe.  They're both in great health and incredibly active. So the move to a village wasn't about their health right now… it was about their lifestyle.
They could keep their current social activities and enjoy new ones to.
So many people think that moving into a retirement village restricts the social interaction of residents and decreases their involvement with the "outside world" but I can say the reality is the complete opposite. Both of her parents have enjoyed getting into village life and have joined in exercise classes, the Mens' Shed and are regulars on rotation for a Friday afternoon happy hour drinks.
But it hasn't taken over their existence.  They love the life and options the village gives them but they haven't stopped the activities they have always loved before they moved. Her mum still plays tennis and bridge and loves her walking group while her dad is still a Coastguard volunteer and loves his early morning golf games in the summer months.
Ad. Article continues below.
It improves feelings of safety
About four years ago, my friend's parent's home was broken in to while they were travelling in Ireland. They lived in a fairly affluent suburb known for community security but that didn't stop it from happening. And getting the call from the building manager who hadn't known quite when it had occurred was very worrying for my friend and her parents who were so far away they didn't know what to do.  They resolved when they got back that unit living wasn't appropriate.
Living in the village they are in, there is a two-step security system that stops people before they even get inside the tower lift. This gives everyone huge peace of mind.
Ad. Article continues below.
It gives everyone a sense of belonging.
There is nothing better than the feeling of belonging and while Jess's parents are very social, they have become great friends with other people like them in the village.
And they've also made some really surprisingly good friendships. Through living in the village they have made new friends and have joined the clubs and groups they are interested in.
They support that matters is only a button away.
Ad. Article continues below.
My friend's mum needed to have a shoulder replacement and recuperate with extensive physiotherapy afterwards, and living in the village this was easy.  They have a visiting Physio who comes to the village twice a week,  so they don't have to go and find one in the suburb if they don't need to.
The other thing, which most people don't like to talk about, but kind of find it nice to know is that there is a red button in the corner of the bedroom that will bring help if you need it.
While residents are young, fit and healthy they don't need to think about the red button. Nor do they need to think about the local hospital ER on their room phone speed dial. The incredible health benefit of living in a village is that residents are given priority with the local hospital and they are designed to provide easy access to medical services should a health emergency arise. They aren't often needed but knowing that the right support is the push of a button away is a huge advantage. There's been many a story about a person who had a heart attack one night and survived thanks to that button.
They enhance independence, not hinder it.
Ad. Article continues below.
Even though my friend's mum and dad live in a retirement village they still have complete independence just as they did while living in their own suburban house and the apartment they tried as well. They both drive, there is no kind of "curfew", they can entertain in their home, at the café downstairs or in one of the function rooms or outdoor settings. Villages don't regulate the life residents can live, instead, they make it easier for over 65s to embrace the many things they can enjoy during retirement.
Every person is different, some will love retirement village living and some may not but retirement villages exist to provide over 60s with a happy, comfortable, healthy and safe retirement. Even I changed my mind about villages a little more since visiting my friend's mum and dad and quite frankly, some days I am totally envious of the lifestyle their retirement village lets them enjoy.
This article is sponsored by Aveo retirement villages. For more information on your lifestyle options take a look at the Aveo website or call 13 28 36. Please note this article was written independently by the Starts at 60 team as it provides insights to, what we feel is, valuable and relevant content for our community.