Seven simple ways to refresh your bathroom on a budget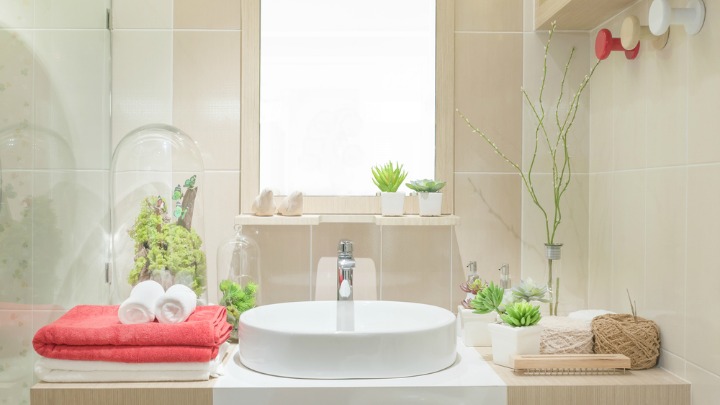 Reviving your tired bathroom doesn't have to break the bank.
From updated fixtures to painted floors here are some affordable options to add character and style.
1. Coordinate
One of the designer tricks when it comes to giving your bathroom a makeover is to match the accessories. If you have a dark basin bench top matched with the dark trim of the mirror or a dark toothpaste and soap holder.
2. Paint
If you've got worn out wooden floors you can bring them back to life with a brushing of deck paint that is tinted to match your bathroom's colour scheme. Same goes for your walls — if they are looking a little dated, consider running a lick of paint over them to give your bathroom a new lease of life. If you've got tiles on those surfaces, you can paint them too… Just be sure you get the right kind of paint for the purpose.
3. Salvage a towel rack
You might not have enough towel hanging space for when you have guests, so consider picking up a coatrack from a second-hand shop or garage sale. It'll be a cheap way of giving you more.
Ad. Article continues below.
4. Frame a mirror
If your mirror is looking a bit drab, spruce it up by running a frame around it. If you're considering this option be sure that the style of your frame matches the overall style of your bathroom.
5. Use elegant lighting
Again, this needs to be in the style of your bathroom overall, but you can turn the ceiling into a focal point just by installing a unique hanging feature from your bathroom's ceiling.
6. Mount a wall cabinet
It's a clever way of giving yourself more storage space and you can use the cupboard for concealing toiletries and guest towels if no other space is available.
7. Insert a wall niche
A little cubby in your bathroom can be used to house those every day items — think about it.
Is your bathroom in need of a little TLC? What tips do you have for sprucing up the spaces in your home?