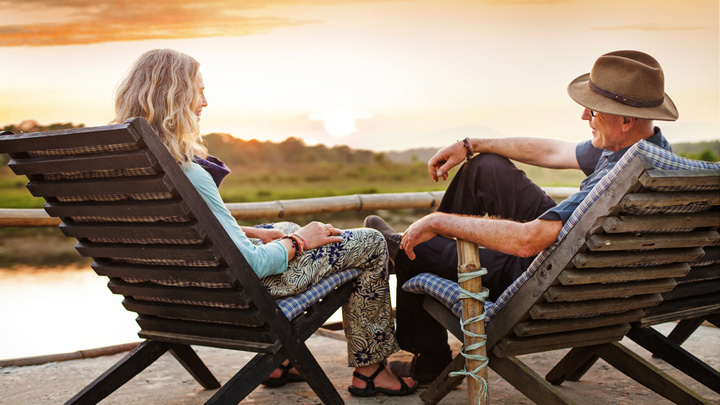 My husband and I retired in 2014. We live in Dalkey County in Dublin, Ireland. We decided that life is too short to waste time thinking too much about what we wanted to do for our retirement.
Our daughter who was living in Sydney had given birth to our first grandchild in November 2013. She was expecting her second child the following July so our decision was easy and we did not hesitate to put our plans in place to travel to Sydney so we could be with her. Our other two children are now grown up and both are working in good jobs in Dublin. We applied for and received a VISA and got a subclass 600 one which entitles us to stay for a twelve month period.
We have to leave for six months in January 2016 and then we can return again for nine months and our last entry for another 12 months will be October 2017. Our two children came to the airport with us to wish us Bon Voyage. It did seem strange for them to be bidding us farewell for a year as we mounted the escalator waving our goodbyes. There were some tears, but both of them have visited us here this year.
We checked out all the logistics for the trip such as house insurance, health insurance, travel insurance and contacted a rental agent to rent our house. There were a few hurdles we had to overcome in relation to house insurance and health insurance, but we managed to handle these with relative ease.
Throwing out long held possessions is not easy so I compromised and kept some of the items. I promised myself that when we return to Ireland in January 2016 I would do a more thorough clean out.
Ad. Article continues below.
I suppose the decision to rent our home was not that difficult when we thought about it. It gave us the opportunity to de-clutter and this brought it home to us that we are now entering the fun time in our lives when we can travel without a worry in the world. We could not let a few possessions stop us enjoying life.
If you don't want to leave your children and grandchildren then that's fine but don't wake up in 10 years' time when the grandchildren are no longer calling to see you and you are no longer physically able to travel and regret you never did.
Making the decision to take a gap year in Australia has been one of the best decision of our lives. My husband loves it here, the outdoor life suits him and he spends most days playing tennis, cycling, swimming, walking or taking our grandchildren to the beach and the park. Now he has a permanent tan and looks so healthy.
Rents are high here so we could not have afforded to spend a year here without renting our home in Ireland. If you prefer to visit big cities and a few different countries rather than stay in one city and make it your base then you can save yourself thousands of dollars by booking your accommodation with a home-stay company. There are websites where you can find cheap and comfortable accommodation staying with local families.
As Irish people living in Coogee for a year we knew we needed to take part in some activities because we had five free days when we would not be minding our grandchildren. I went to the local library in Randwick and saw an advertisement for various classes including drawing, creative writing and yoga so I joined up. I also got involved in the book club but their sessions clashed with yoga so I could not attend on a continuous basis. I met lots of people of different nationalities at the different classes. They were all very nice and friendly and together with my co-writers in the creative writing group we produced and published a book of short stories and poems.
Ad. Article continues below.
We have done lots of travelling during our time here including visits to Melbourne, Cairns, Coffs Harbour, Bluey's Beach and we also visited Bali and we are visiting Perth next week. Before we leave Australia in January next we intend doing the plane ride over Sydney bridge and having a nice dinner out in a good restaurant a gift from our daughter. I also did a skydive in Cairns and I enjoyed it immensely. Not bad for an over 60 Gran.
This gap year which is now sadly drawing to a close has given us a lot of confidence to continue our travels something we could not do when we finished university in the mid seventy's.
The big day for our departure is coming in slow motion and we need to decide if we will return. If we decide to return we will arrange to have our possessions stored until our return otherwise we will sell the items now. Our daughter and son in law may not be in Sydney when we return as they may decide to live elsewhere so we need to think through if we would be prepared to come to Sydney if they are not here. That decision is still in the air but neither our children, grandchildren nor our possessions can stop us now. We have the travel bug and a love of Sydney.
Tell us, would you ever have a retirement gap year?