Make your garden pop with coloured bark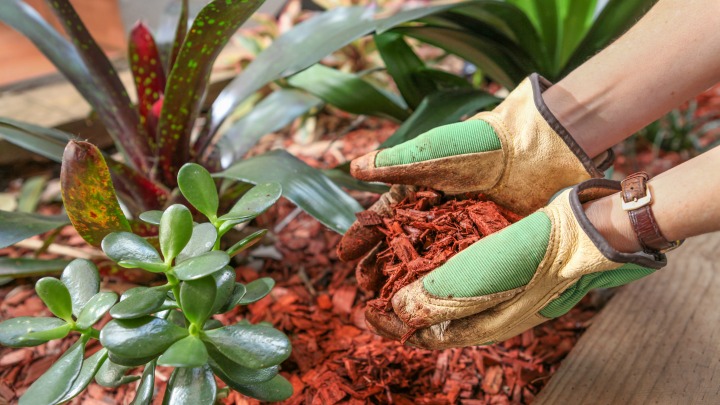 Spring is here and it's time to bring your garden back to life and give it some extra colour.
So what can you do apart from planting some colourful flowers?
Well, adding coloured bark as mulch to your gardens can really make them pop.
Not only is relatively cost-effective, it's also great for your garden's health!
Read more: To mulch or not to mulch
Ad. Article continues below.
Taking a walk through any major hardware store will open your eyes to the range of colours and types of bark you can buy for your garden.
From a flat traditional colour to blacks and blues, there's a range of options to suit the look you want.
Using a rich red or orange coloured bark, like the one pictured above, is one of the most effective ways to make your garden pop.
The green of your plants will look amazing against that rich red!
So what other benefits does bark mulch have apart from looking good?
Ad. Article continues below.
Cedar and pine bark can have a rich aroma that will linger in your garden for several weeks.
Unlike other mulches, bark remains loose and doesn't stick together.
It also decomposes slowly over time and improves soil structure and drainage
Your bark mulch will also help prevent weeds from taking over your garden and retain soil moisture.
For large areas of mulch, you might have to have your mulch delivered by the trailer load.
Ad. Article continues below.
If it's only a small area, buy a few bags from the hardware… you can easily make over a small garden for less than $100.
Read more: Your garden to do list for the weekend
So you've bought the bark, what's next?
First you need to prepare the area. Rip out any weeds and lay down any plastic or weed matting you might want to use.
Bit-by-bit place your mulch, adding a generous of mulch as you go.
Ad. Article continues below.
Coarser barks you should aim to layer three or four inches thick. Make sure it's spread evenly, if you lay it on too thick you can suffocate your plants.
So is there a downside to using bark?
The only drawback is that your bark needs to be replaced annually.
This can also be a benefit as you're able to chop and change colours as you please.
Do you use coloured barks in your garden? What colour do you like using?