Let's talk: Should we have more rights to protect our property?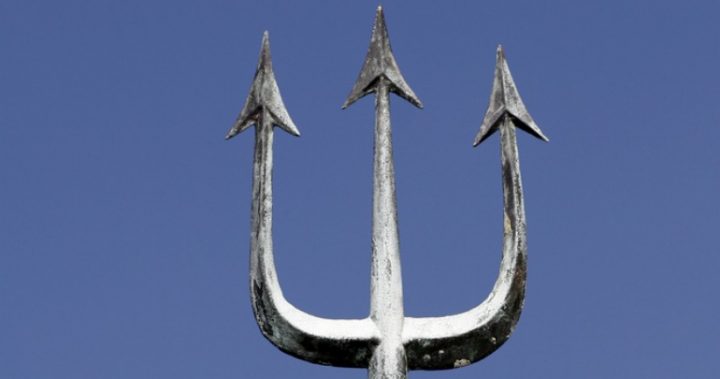 A man has made headlines by protecting his home with some unusual weapons, and people are now questioning what their own rights would be in a similar situation.  
Johnny Smith had been playing video games with a friend in his Townsville home when he heard a knock on the door. As Smith opened the front door to find a man standing there, he heard another man entering his home from the back.
After being slammed up against a wall by one of the men, Smith pretended to go looking for his wallet to hand over some cash. Instead, he picked up a trident from one of his rooms, came back and lunged at the home invaders. 
"The real big fella that slammed me up against the wall – he literally turned white and screamed and ran out the back door," Smith says in a Nine News video.
"And the other fella threw the tyre iron at me, which then missed me and hit old mate as he was running out the back door." 
Ad. Article continues below.
Just when he thought it was all over, Smith heard the two would-be thieves trying to break into a neighbour's car. 
That's when he went for the chainsaw.
Seizing his Ozito and starting the engine, Smith walked out of his house and scared the thieves enough to send them running for good this time.
Tuesday's Townsville Bulletin front page. pic.twitter.com/Xw6qpShuis

— ben english (@bennyglish) July 17, 2017
Ad. Article continues below.
The story has been met with incredulity not just because Smith happened to have a trident handy or because the home invaders messed things up so badly, but because Smith's Ozito chainsaw allegedly started at the first pull.
"If this guy got one of those crappy Ozito chainsaws to fire first go he's not to be messed with," one person writes on the Nine News Australia Facebook page.

"Did he have to ask them to wait while he got it started?" another quips.
Ad. Article continues below.
Others are debating whether Smith was within his legal rights to threaten the thieves in such a way.
"I've used pool cues, lumps of timber and my steal toe boots to take people down and never been charged," one man writes. "Don't kill them and stop hitting once they stop and you be good to go." [sic]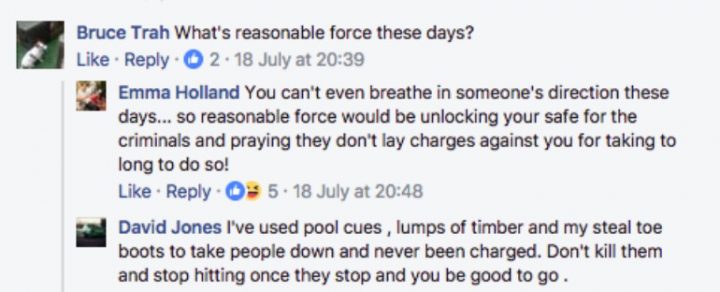 According to Queensland legislation, someone "in peaceable possession" of any property is entitled to "use such force as is reasonably necessary" to prevent someone from entering, or to evict an intruder.
Ad. Article continues below.
While it's up to a court to determine on a case-by-case basis whether force used was reasonable, the official stance is that defence of a property is reasonable "provided that he or she does not do grievous bodily harm to such person".
According to Legal Aid Queensland, "reasonable force does not include setting traps for intruders and you may be liable for injury caused to another person on their property even if that person is a trespasser".
Anyone in this situation should seek legal advice specific to their case.
Do you think Smith was right to defend his home in this way? Should there be more leniency for defence of property?