How you can make your move less stressful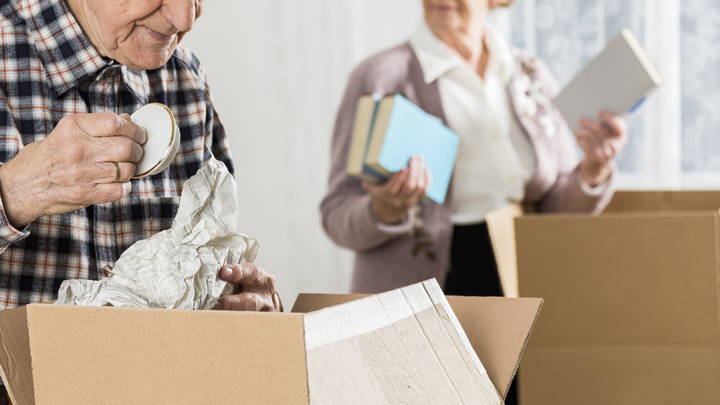 If you've decided to sell the family home, downsize or make a sea or tree change, then the most stressful part lies ahead of you – the move itself.
Remember the last time you moved?
It's such a stressful experience.
If you haven't moved for a while or you've aged since your last move, it can be even more stressful.
From the packing to hiring cleaners and movers, moving really can be overwhelming.
Ad. Article continues below.
Here are some handy tips to help you make your move less stressful.
1. Pack well in advance
From the moment the sale of your home is confirmed or you've given notice to leave your rental, you should start packing. While you might have a "moving day", the actual process of moving should begin weeks in advance.  Anything you don't need should be packed as early as possible such as spare bed linen and towels, kitchen appliances you don't use and filed documents. If you don't use it everyday, then pack it up and store it out of the way ready for your moving day.
Ad. Article continues below.
2. Schedule your cleaner and movers in advance
Having your home cleaned and getting a helping hand to move are very important parts of the moving process. It's important to schedule both well in advance, instead of trying to organise them at the last minute. Having them booked in gives you piece of mind so you can get the rest of the move sorted. Make sure you organise the cleaner for the day after you move, that way they don't have to try and clean around you as you move. Make sure you have cash on hand to pay them on the day.
3. Make sure you have all your equipment
It's better to have too much moving gear than not enough. That's why it's important to have more than enough scissors, markers, tape and boxes on hand for your move. A little bit of rope, and any tools you might need to dismantle furniture won't go astray either. Stopping on your moving day to buy extra equipment can be a huge waste of time and a real nuisance.
Ad. Article continues below.
4. Declutter as you pack
What better time to sort through your stuff then when you are packing? Don't just throw everything you own into boxes and sort when you unpack in your new home, otherwise you're just taking extra stuff that you don't need. Get rid of anything you don't wear, you can't use or is broken. Doing the decluttering will save you space in the removal truck or your trailer, and give you less to unpack at your new home.
Ad. Article continues below.
5. Don't get nostalgic as you pack and move
As lovely as it is to look through old photos or reminisce about the good times in your home, it can't be very distracting and cause you to procrastinate even more. Getting nostalgic will also take up valuable moving time, possibly putting you behind schedule and adding more stress to your move. If it doesn't help you towards your goal of packing belongings in boxes, don't do it!
6. Have all your packing done ready for the movers
You should make sure all your belongings are packed up, boxed up and ready to be loaded into the truck, ute, trailer or car. Whether it's hired movers or friends helping you out, having to stop and pack on your moving day can set you behind schedule and make your move very stressful. It could also cost you extra if you leave the professional movers waiting while you pack.
Ad. Article continues below.
7. Clear your schedule on moving day
The day you choose as your moving day should be for just that – moving. Even if you think you're super organised, moving house can take longer than you think. That's why it's a good idea not to make any other plans such as unnecessary trips to the shop or coffee with friends. Jam packing other things into your schedule will add more stress to the move.
8. Remember to eat and rest as you move
Ad. Article continues below.
Don't run yourself into the ground while moving. The moving day can be exhausting physically and mentally, which is why it's important for you to have plenty of water on hand and take decent rests to enjoy some food and recharge your batteries. The last thing you need on top of moving house is an injury or more aches and pains.
9. Be flexible and have fun
It's important to make sure your moving plan has some flexibility in case something goes wrong such as bad weather or issues with house contracts or leases. On your move day, you should try to take the stress and edge off by having a little bit of fun – as long as it doesn't distract you too much. Have some friends come over and help you out or play some of your favourite music. The less stressed you feel, the less stressful your move will be.
Have you ever had a stressful move? How do you take the stress out of moving house?