How you can get support and stay in your home if you have dementia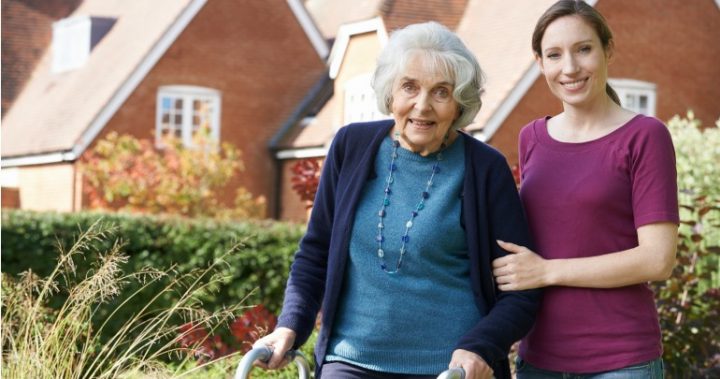 Many of us assume that a dementia diagnosis means you have to leave your home and move into a care facility.
There may have been a time when that was the course of action you'd have to take.
But now there are alternatives, and they're helping people with dementia stay in their homes for longer.
There are benefits to helping people with dementia in their homes, especially for their mental wellbeing.
That's where services such as Southern Cross Care's Dementia Advisory service are lending a hand.
Ad. Article continues below.
The new service is helping the increasing number of Victorians with dementia, now at 98,000, remain in their homes and live as independently as possible.
Dementia Care Consultant Ben Gatehouse said the Dementia Advisory Service filled a gap in the services available to Victorians with dementia and their carers.
"We know how important it is for older Victorians to retain everyday roles and to continue living independently at home," he said.
"Many carers do not have access to service that is tailored to individual circumstances."
So, how does the service work?
Ad. Article continues below.
Well, to start with a dementia healthcare specialist will visit your home and provide day-to-day advice suited to your needs and environment.
Mr Gatehouse said the service improves autonomy and quality of life for people with dementia and supports them living at home longer – after all, there's no place like home.
"The Dementia Advisory Service provides information for people with dementia and their carers to better understand the symptoms and stages of dementia," he said.
"Going into a person's home gives the advisor a better understanding of your needs and challenges, then we can provide advice on how to prevent and support the complex and challenging behaviours.  
"Our dementia healthcare specialist can advise on environmental design to help a person living with dementia be autonomous and as independent as possible.
Ad. Article continues below.
"We can help with advising what the aged care process is and how to utilise or access the appropriate support services such as residential respite or day support."
There is also follow up support available including home visits, phone calls and Skype/FaceTime contact between you and your advisor.
No doubt you're wondering how you can access the service?
There are several ways you can.
You can request a home visit by phoning 1800 508 008, emailing [email protected] or you can get a referral through your health care professional or community service provider.
Ad. Article continues below.
There is also the My Aged Care website which can help you.
You're eligible for the service if you or loved one is over the age of 65 and living with dementia, and while the service is funded by the Department of Social Services, some fees may apply.
Unfortunately at this stage the Dementia Advisory Service is only available to people in the southern metropolitan areas of Melbourne.
However, Southern Cross Care Victoria has plans to expand it across every region of the state.
If you're not from Victoria, My Aged Care (a website set up by the Federal Government) has plenty of information about other services such as Home Care that you or your loved on may qualify for.
What do you think about this? Would you like to see more services like this set up to support over-60s?