Everyone's leaving Sydney, but this resort suburb is drawing them in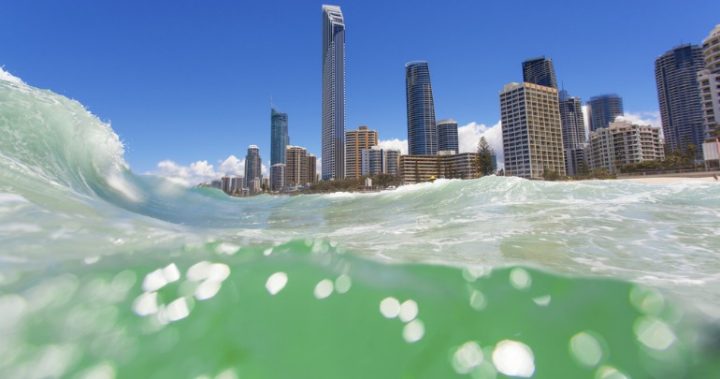 The verdict is in: Baby Boomers all around Australia are packing their bags and moving to the Gold Coast.
Thanks to recent data from the Australian Bureau of Statistics, the patterns of internal migration have been made very clear.
It seems Sydney is losing its popularity, and people are leaving in droves.
For the tenth year in a row, inner south-west Sydney saw the greatest migration loss, with nearly 9,000 people moving away in 2016.
Meanwhile, the Gold Coast has seen an influx of nearly 6,500 people; among them, more than 2,200 people aged 45 years and over, representing the Baby Boomers and upper end of Generation X.
Ad. Article continues below.
So what's the attraction? According to the Residential Property Impact Report compiled by PRD Nationwide, the Commonwealth Games is largely responsible for the increase in interest.
The report reveals median house prices have increased by an average of 8.3 per cent and unit prices have increased by an average of 10.3 per cent in suburbs that will be major venues for Commonwealth Games events.
Ashmore, Carrara, Coomera, Oxenford and Southport are among the most popular suburbs. The rental market has also seen a positive turn, with Ashmore experiencing its lowest vacancy rate in history.
"The Chinese are actively purchasing more, which increases market competition," Gerald Adam, principal of PRD Nationwide Southport, says.
"Should the market continue to go the same direction that it is going now, more owners, investors and university students will come to the Gold Coast post Commonwealth Games."
Ad. Article continues below.
While not everyone will be able to find a spot in the suburbs most closely linked to the Commonwealth Games, other areas of the Gold Coast are also benefitting from a property boom.
Pimpama, a northern suburb of the Gold Coast, boasted $340 million in residential building approvals during the 2015/16 year – the nation's largest amount, according to the HIA Population & Residential Hotspots 2017 report.
Once the Commonwealth Games have wrapped up, development and construction company Grocon will repurpose the athlete's village to make way for new renters and buyers.
The one- and two-bedroom apartments and three-bedroom townhouses "will become available for public rent and possible purchase from early 2019", according to the Queensland government's state development website.
Ad. Article continues below.
For those who don't want to wait until 2019, now is the best time to enter the Gold Coast property market. Recent research from CoreLogic reveals that Gold Coast prices are increasing even faster than Brisbane and Sydney.
"We've always had the numbers as we were predominantly a holiday destination," Dane Atherton, Harcourts Coastal director, says in an article on realestate.com.au. 
"We are growing as a city in depth and size, and while our prices may not ever exceed a massive city, they will get closer."  
Do you think a post-games Gold Coast's property boom will happen?