The shopping centre curse that's affecting surrounding properties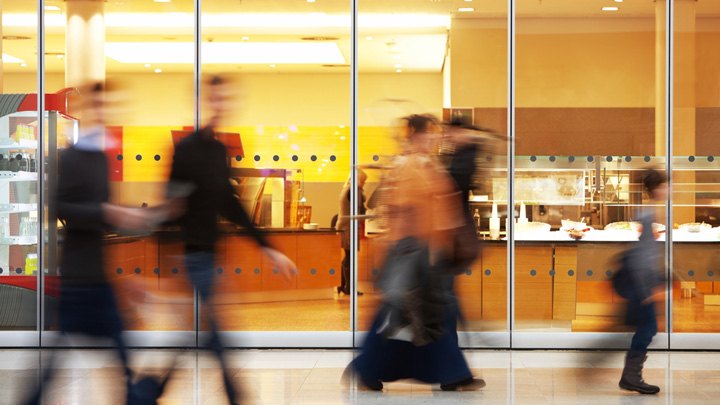 How many times have you been caught in line behind someone who forgot to pay for their parking at a shopping centre? How many times have you had to cut short your time at the shops to avoid paying for your own parking? And how many times have you decided to meet friends elsewhere in order to dodge paid parking altogether? 
Let's be honest: paid parking might be considered a necessity for certain shopping centres but it's an annoyance and an inconvenience to most of us, even if we begrudgingly offer up our spare coin to the ticket machine. While we're cutting short our shopping trips, taking public transport, or parking further away from the centre, businesses are feeling the pinch. 
I was working in a shopping centre when paid parking was first introduced there, and the change was palpable. Where people had previously been teeming through the centre and daily store budgets had been made easily, it became a constant struggle to keep up the momentum. During the slowest days, when all the work had been completed and there was nothing left to shelve, dust or polish, I timed how long it took for a customer to walk past our doors. At one stage, we reached 20 minutes before a single solitary shopper strode past. 
Eventually, the tides turn and people learn to either shoulder the small bill for their time at the centre or find a way to work around it. But that is something that takes time and not all businesses can afford to ride out the slump. 
Read more: What pisses me off: Paid parking
Ad. Article continues below.
Earlier this year, the Property Council of Australia lobbied strenuously against an increased Perth Parking Levy in the state budget for Western Australia. 
"The city centre is facing significant economic challenges following the decline of the investment boom with CBD office vacancies now at 21 per cent … if less people now work in the CBD, we must look at ways to attract people in from the suburbs. The Perth Parking Levy has driven up the cost of parking, making the city not competitive, compared to the suburban shopping [centres] that all offer free parking," [sic] Lino Iacomella, Property Council WA Executive Director, said in a statement released in August.
As it turns out, the lobbying was effective; the state budget did not include an increased parking levy. 
While not all major cities in Australia are suffering from the exact same difficulties as Perth, there are protests from customers and employees every time another shopping centre adopts paid parking. 
Castle Towers in New South Wales introduced paid parking systems in August, and restaurant owners informed their local councillor, Raymond Harty, that their businesses were already suffering, according to an article in The Daily Telegraph. 
Ad. Article continues below.
Read more: Disabled parking permits: The must-know tips to use them overseas
"Already restaurant owners are saying they are not going to renew their lease, the Coffee Club is shut down, while several other restaurants are holding off negotiating with [the shopping centre] as well," Harty said in a council meeting. "What is happening is leaving a very detrimental effect on restaurant owners; people are boycotting the Towers because of this system." 
One restaurant owner believes that their 10 per cent decline in yearly profits "is only going to get worse" as Castle Towers undergoes renovations that will remove another 700 car spaces from the centre. The restaurant owner is reluctant to sign a new five-year lease with the shopping centre; if the profits continue to decline, such a long-term agreement may not be sustainable.
The Herald Sun reported on another paid parking protest this month; employees of the Victorian shopping centre of Westfield Southland are vehemently opposed to being forced to pay $5 a day (or about $100 a month) just to park at their place of employment. 
"Retail and fast food workers are lower-paid workers and cannot afford to pay $1,300 per year to attend work … What next? Charge a gold coin to go to the toilet while at work?" Michael Donovan, secretary of Shop, Distributive and Allied Employees' Association, said in the article. 
Ad. Article continues below.
Read more: Parking woes are ruining our local shopping centres
Many shopping centres provide free parking for anyone who has parked for fewer than three hours, or for those who spend more than $150 in a single day. Movie-goers can enjoy four hours' free parking at certain centres, but this means anyone who wants to grab a meal and a movie could still easily tick over the limit and have to fork out an additional fee. Validating your $150 worth of purchases can also become a tiresome task during busy periods such as Christmas, when the lines at the customer service desk rival those in the car parks.
The imposition of paid parking at any business always poses difficulty for nearby residents, who are subsequently plagued by cash-savvy employees or shoppers clogging residential streets. Stroll down any street near the Sydney Airport, for example, and you'll see cars parked bumper-to-bumper as travellers try to avoid paying massive fees to keep their car close by for their return home. 
Read more: What pisses me off: Lack of seniors parking!
"I saw the lady owner of the car parked right outside my property with her suitcase and a waiting car to take her to the airport," one person posted in a community Facebook group. 
Ad. Article continues below.
"We get a stack of dumped cars too taking up our untimed spaces so we are forced to park in two-hour parking," another person wrote. 
Despite the vocal protests of residents, employees, shoppers and business-owners, it doesn't look like paid parking will come to an end anytime soon. We may just get used to seeing our favourite businesses (whether they are independent or part of a bigger corporation) close down as they struggle to cope with the negative impacts on the community as a whole. 
Have you ever been stung by paid parking fees? Do you think there's a simpler solution?
Important information: The information provided on this website is of a general nature and for information purposes only. It does not take into account your objectives, financial situation or needs. It is not financial product advice and must not be relied upon as such. Before making any financial decision you should determine whether the information is appropriate in terms of your particular circumstances and seek advice from an independent licensed financial services professional.