Mayfield is the secret Aussie garden you have to visit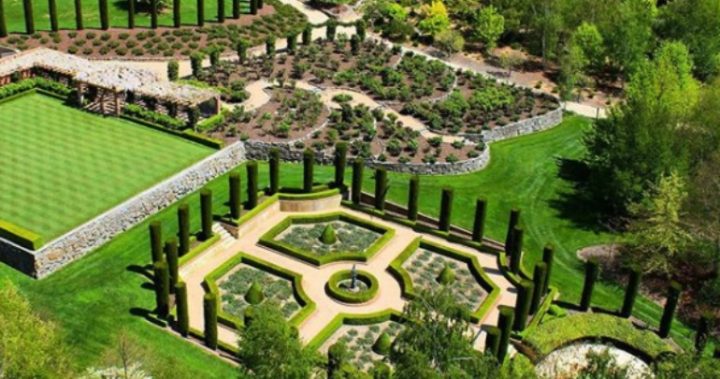 One on of the very few downsides to living in Australia is that it's harder to visit some of the world's most famous gardens. Versailles in France, the Keukenhof Gardens in the Netherlands, the Summer Palace in China, Japan's Ryoan-ji Temple and Canada's Butchart Gardens have to be kept to rare long-haul holidays.
But many garden fans may be unaware that Australia is home to one of gardening's best-kept secrets; the world's largest privately-owned, cool-climate garden.  Mayfield Garden in Oberon, New South Wales, is a hidden gem that was created by the Hawkins family only about 20 years ago.
In that short time, Mayfield has grown to boast a breath-taking cascade, walled kitchen gardens, grottos, chapels, bird aviaries and a stunning English rose garden. There's also a beautiful Monet-inspired water garden, complete with lily-covered ponds, bridges, birch trees and fountains, while the larger garden itself uses a mix of native and exotic plants and draws inspiration from European, Japanese and Chinese gardens.
Ad. Article continues below.
Hamish Keith, CEO of Mayfield Garden, told Starts at 60 the 160-acre garden takes at least 25 full-time gardeners to maintain, and even more during the warmer months. But they're rewarded for their hard work by the crowds who come to admire their expertise. The garden attracted more than 50,000 visitors in 2017 and can take guests a whole day to get through on foot.
Luckily, there are mini-buses operating throughout the property to ferry visitors between spots such as stunning silver birch groves and woodland scenes with maples and oaks. There is even a hedge maze if you are feeling like a challenge. 
Ad. Article continues below.
Keith, who oversees the entire garden, told Starts at 60 a few of his secrets when it comes to creating the perfect garden. 
"Understand the soil in your garden – include good, well composted organic matter, ensure your plants are watered and mulched well and your selection of plants are suited to your site," he says. Keith also notes that this season it's the 'old-fashioned' plants such as hydrangeas, escallonias, viburnums and raphiolepis that are making a comeback in popularity.
Ad. Article continues below.
While he loves every stretch of Mayfield Gardens, he says he has received the most compliments for the six-acre water garden.
"[It has a] spectacular design with incredible water features, sculptures and follies," Keith says. "It transforms throughout each season, from the water lilies in bloom in summer, the spectacular colours of autumn, the raw structure on show in wintertime and the lush growth and abundance of heady scents of spring. The water garden is amazing in all seasons."
Ad. Article continues below.
Apart from being home to stunning flora, Mayfield Garden also includes three acres of veggie patches with beehives and a palatial village of chicken houses. Mayfield uses the fresh produce from these patches in its own highly rated cafe and for events, as well as to create jams and preserves, soaps and candles. 
Ad. Article continues below.
Mayfield is two-and-a-half hours' drive from Sydney, so not exactly somewhere you can quickly swing by unless you live in the area, but if you're planning a trip to the region, it holds plenty of fun events for you to time your visit to attend. Some of the highlights include a White Party in February, a glamping getaway and an Autumn festival.
Garden tours are available all year round, and there's soon to be even more to see. Keith says some of Mayfield's expansion plans include a healing garden, poison garden, a Norwegian tree walk and a stunning camellia walk.
What do you think of this garden? Do you like the European influences or are you more a fan of the Australian natives?
Read More: Facebook changes are coming – what it means for you, and for Starts at 60
Ad. Article continues below.
With Facebook removing news sites from your feeds we ask that you sign up for Starts at 60's emailers here. And to keep us on your wall, join some of our new Facebook groups and clubs:

News Junkies Club – Australia
News Junkies Club – USA 

See news on the change and links to all our other clubs and groups here.