Native Australian foods that will liven up your backyard and cooking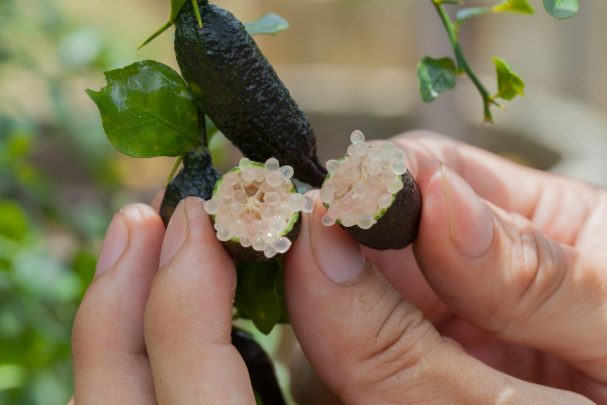 Australia is known for its unique selection of flora and fauna, and the same goes for some of our native bush tucker.
Unfortunately, many of our natural herbs, fruits and veggies are nowhere to be found in local supermarkets, even though research has found that our own bush tucker is rich in vitamin and minerals. Fortunately, the fact that these foods are native also means they are a lot less maintenance and will grow more easily in our backyard.
Some of our natives that look beautiful in the garden and are great for cooking include:
Finger lime
These limes are long and slim rather than round, hence the name. They contain bead-like crystals full of tangy juice, perfect for adding a zesty undertone to any meal. In fact, finger limes are often called 'lime caviar' because of the unique, bead-like appearance of their flesh. They can be used in drinks, dessert, as a garnish or even in a marmalade.
Ad. Article continues below.
Finger limes usually grow 6 metres high and are native to the rainforests of south-east Queensland and north-east New South Wales but can be grown all across Australia and make a charming addition to any backyard.
Lemon myrtle
Lemon myrtle has a unique flavour that some describe as like lemon cordial rather than lemon itself, making it perfect for teas, seasoning and soups. It is used internationally and is famed for its sweet, citrus scent. Lemon myrtle grows well along the Queensland coastline but can be grown anywhere in Australia.
It reaches a height of 3 metres and features fluffy, cream flowers. Lemon myrtle is a great plant for attracting native wildlife to your garden because it's popular with birds and bees.
Warrigal greens
Ad. Article continues below.
These greens are a native type of spinach that can be used as a substitute for spinach. Warrigal has a stronger taste than spinach, though and is known to be particularly rich in anti-oxidants and vitamin C. The plant can be grown all year round and is said to favour sunny positions and saline soils and work well as a ground cover.
But it's important not to overuse the greens or eat them in large quantities, and to blanch the greens before eating because they contain an oxide that can be harmful to some people.
Quandong
Quandongs are called the Australian 'native peach' for their tart flesh and sweet flesh. They grow in semi-arid regions and reach 4 metres high.
The plant features cream flowers and produces fruit in early spring. They are great as a snack or to use in cooking, salads and preserves. Quandongs are also super-high in vitamin c and were used by indigenous Australians for medicinal purposes.
Ad. Article continues below.
Snowberry
The snowberry plant is recognisable for its small snow-white berries with blood red tips, that are of a similar size to blueberries. Snowberry plants, not to be confused with the snowberry plants that grown in North America and have inedible berries, can be found in cold, wet forest areas and sub-alpine regions and are often used in top restaurants for fancy desserts. They're best suited to the cold, making Tasmania the easiest place to grown them.
Other plants to know
Macadamias, bush tomatoes. samphire, wattleseed and sea parsley are also some other great plants you can incorporate into your backyard if you want to add some more bush tucker to your diet. Just check the height that each of the plants grow to and judge if your backyard can accommodate them.
Do you have any of these Aussie natives growing in your garden? Which ones sound the most appealing?