Gorgeous '50s flower arrangements are finally back in fashion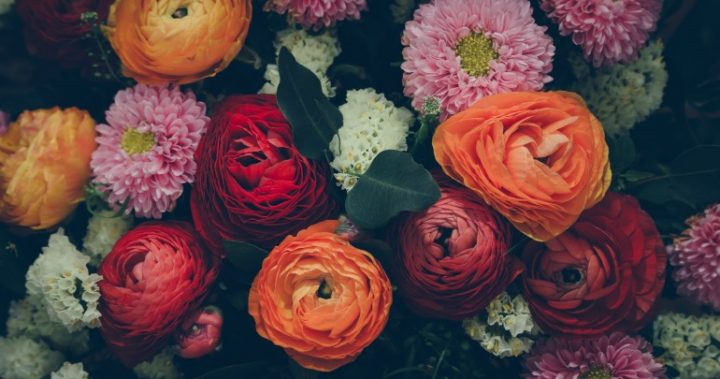 Beautiful flowers and foliage brighten up a room no matter how they're arranged, but formal flower arranging itself sees to have fallen out of popularity.
But the lost art – it's been gradually becoming less popular as a pastime since World War II – may be about to make a fabulous return. Loewe, a luxury fashion house from Spain that plenty of big-spending fans, has started using the art of flower arranging in its fashion campaigns and has even released a video on Instagram explaining the basics of modern flower arranging.
Ad. Article continues below.
The video's advice includes:
Have a colour palette in mind before selecting individual flowers
Start with the darkest of your flower selection
Compose your colour scheme with two or three complementary colours
Add highlights with single elements
Finish with the brightest colours and most delicate flowers.
Loewe's Instagram page features a number of stunning flower arrangements, all full of vibrant colours and hues. Loewe went as far as to put a pop-up florist story in its new flagship store in Madrid when it opened in 2016. The small exhibit showcased exquisite blooms inspired by the mid-20th-century florist Constance Spry. Jonathan Anderson, the head designer at Loewe was a big fan of the florist and wanted to share her work with the public.
Ad. Article continues below.
Spry created a number of flower arrangements for the British royal family and was one of the most famous flower arrangers of the 1930s, '40s and '50s. Her arrangements contained both large and small flowering plants, terrariums, miniature gardens and small ferns.
Moving with the times, though, popular arrangements in the '60s were more abstract and minimalist, before the focus moved to wildflower blooms in the '70s. The flower arrangements of the '80s are probably best forgotten, with the decade's craze for silk and plastic flowers.
Ad. Article continues below.
After that flower arranging pretty much disappeared. Today, fashionable flower fans are more focused on using edible flowers in cooking and cake decorating, or fashioning them into headwear such as flower crowns.
For gardeners, though, there is nothing better than taking a few flower cuttings from the garden and placing them in a vase – a great display of your labour of love, no matter how humble the bloom or its container. 
Have you ever tried your hand at flower arranging? Do these lovely pictures make you feel inspired to put a vase of blooms in your home?
Read More: Facebook changes are coming – what it means for you, and for Starts at 60
Ad. Article continues below.
With Facebook removing news sites from your feeds we ask that you sign up for Starts at 60's emailers here. And to keep us on your wall, join some of our new Facebook groups and clubs:

News Junkies Club – Australia
News Junkies Club – USA 

See news on the change and links to all our other clubs and groups here.