Easy ways to boost your home's value if you're downsizing in 2017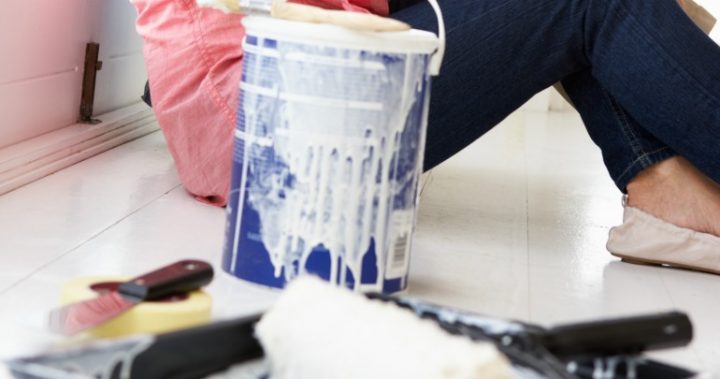 A new year is about to roll over and with it comes the usual list of New Year's resolutions.
For some, that resolution list is likely to include the sale of the family home and a downsize.
If you're looking at downsizing in 2017 and want to boost the value of your home before you sell, there are a few simple inexpensive things you can do.
From adding extra storage to giving your bathroom and kitchen a freshen up, here are seven inexpensive things you can do to boost the value of your home.
Ad. Article continues below.
1. Change your lighting
If you have old, dull or boring light fittings or light shades in your house, it might be time to give them a bit of a revamp. In the main living areas such as dining or lounge room this is particularly important. Why not replace those lights with an eye-catching chandelier or modern light shade? What if you have a ceiling fan and light? Well, you can actually buy replacement fan blades to freshen up the look of your fan without busting your budget.
2. Make your entrance one to remember
A great front door and entrance can make all the difference in improving the value of your home. If your front door is looking a little old or dated, there are simple ways you can spruce it up. Something as simple as changing the door knob to something more substantial-looking can make your home look solid and secure. Already have that? Try giving your door a coat of paint or a wood staining. Make sure the colour of your door is both eye-catching and suited to the colour of your home.
Ad. Article continues below.
3. Clean up your carpet/flooring
Sometimes it pays to look down at your floors. If you have carpet in your home, an expensive clean and inspection is a cheap and worthy investment in boosting the value of your home.  After it's cleaned, if your carpet is showing serious wear or staining, cover it with a strategically placed rug. Most real estate agents don't suggest replacing your carpet before selling your house, as homeowners moving in may want to choose flooring of their own. Don't have carpet? Well, if you have wood, tile or other flooring, now is a good time to check it's all in order, give it a clean up and as with your carpet, cover up any eyesores with a rug.
4. Add some extra storage
Ad. Article continues below.
Storage such as cupboards or shelving can be a real value-adder to your home. Some older homes in particular can be lacking in storage and closet space. Simple additions such as extra shelving or hangers can really make your cramped storage areas seem bigger. Mirrors can also make your closets and walk-in wardrobes look larger than they area.
5. Check and fix your plumbing and electricity
Water leaks and issues with your electricity and plumbing can really affect the value of your home. Not only does a well maintained plumbing and electrical system boost the value of your home, it also shows potential buyers your home has been looked after. Have an electrician or plumber come in and inspect your home. They can fix any loose or faulty wiring, water leaks or other plumbing and electrical issues before they become major problems.
Ad. Article continues below.
6. Give your bathroom and kitchen a face lift
They say your bathroom and kitchen are two of the most value-adding rooms in your house, which is why giving them a quick revamp can boost the value of your home.  No, you don't need to go ripping our your bath tub or kitchen cabinets. In fact, you can do these little upgrades yourself for little expense. Simple things such as a new toilet seat, new handles on your bathroom cabinets and new taps in your sink and bath or new shower heads are great ways of boosting your bathroom's value. In the kitchen, try changing the handles on your kitchen cabinets or replacing your taps in the kitchen sink.
7. Give your home some street appeal
How your home looks from the street can be really influential in determining its value. So what can you do with your front yard to boost the value of your home? It's pretty simple – mow your lawn, plant a few shrubs or flowers, clean up your over grown or weedy gardens, trim back any hedges or vines and sweep your walkway or path. You can do it yourself for little money or hire a landscaper to come and do it for you.
Are you downsizing in 2017? Have you made any improvements to your home recently?