Downsizing can make you happier, healthier and wealthier… Why haven't you done it?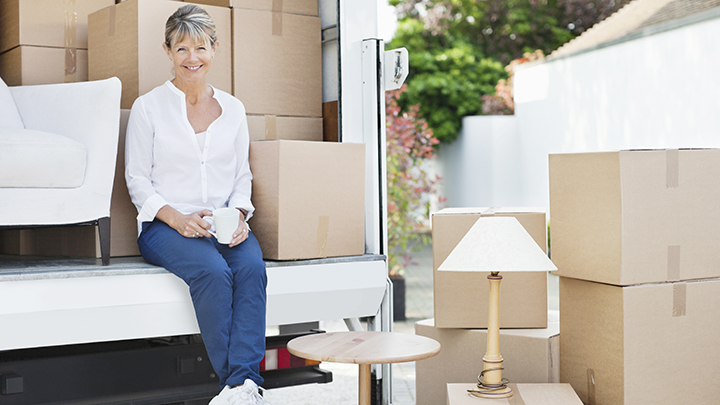 Some people seem to think that downsizing is a part of the ageing process that they don't want to go through. It's often seen as a difficult and timely process that ultimately leaves you with fewer belongings, in a smaller home with fewer memories. But the reality is that there is incredible benefits to downsizing that aren't highlighted enough.
Downsizing is an opportunity to refresh yourself and your life. It is a chance to have a new start and this often ties in with the golden age of retirement. Last year we surveyed the Starts at 60 community and there was an even split 50-50 between people who wanted to downsize at some stage and people who didn't want to downsize at some stage.
But before you make up your mind, you might like to consider these benefits to downsizing when you retire.
Wealth
Ad. Article continues below.
Downsizing to sell the family home is a financially strong decision when you look at the numbers. A typical downsizing move could mean selling the family home and instead buying an apartment or unit. According to Real Estate website Realestate.com.au, the median house price in Brisbane was $677,500 in November 2014 whereas the median unit price was $500,000. This means that you have more cash in the pocket heading into retirement to either spend on enjoying experiences and travel or reinvest in other areas. In smaller properties and complexes utilities and rates are often less and downsizing means bringing less belongings with you so you have the opportunity to make some more money through selling furniture and belongings you no longer need. While downsizing might seem like a lot of effort, the financial benefits are significant and you can tailor your plan to the lifestyle you'd like to enjoy in retirement.
Health
Downsizing has health benefits for retirees too that are scarcely recognised. Firstly, it's a new start. Think back to every new phase and new start you've had in your life – it almost always coincides with boosted energy and a positive attitude. You also have less stress after the downsizing process as financial stress is a lesser burden and you can spend less time cleaning and maintaining a family home that after 30 odd years of owning is likely to need a paint job, the carpet replaced and renovations. You know the go, there's always something to do around the house! Getting rid of that obligation means that you can get outside or back into the community and start doing things that give yourself a health boost.
Ad. Article continues below.
Happiness
This is perhaps the most important one – your happiness. Most people who have downsized found that it brought them incredible happiness and it's perfectly logical. Downsizing means less responsibility financially so less stress and more to be positive about. It means fewer belongings so you can value the things that really matter. It also means that you can do more of what you love. Downsizing makes travelling easy, especially if you're in a unit complex or even a village – you can simply lock up and leave! Downsizing adds a minimalistic simplicity to your life that benefits your mental health greatly.
So if you're sitting on the fence when it comes to downsizing, think about the kind of lifestyle you want to enjoy and whether this could be your fast-tracked way of living it.
Ad. Article continues below.
And, if you're concerned about the actual process, try setting yourself a challenge for the year and throw away, give away, donate or sell one item from you home a day. By the end of it you'll realise just how easy it is to part with your things and belongings when you aren't going through rapid change. This makes the final move much easier.
Tell us, have you downsized? Have you downsized? How has your life changed? What have you loved most about it?