You might call me a hoarder, but I just love my leftovers!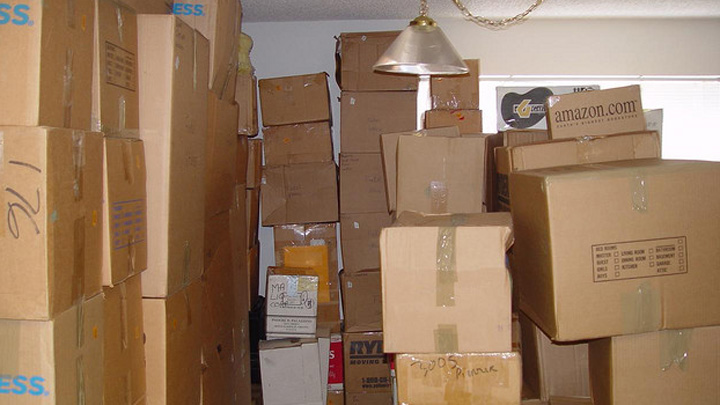 My children will all tell you I am a hoarder but they will also tell you I am deaf and should have been put in a home at 55. So let us examine just where hoarding starts and finishes and are they just looking at the quantity of items I own, not the quality and value? If you ask me if I am a hoarder, I will say "definitely not" as I have a perfect explanation for all my wonderful possessions and I would much rather call them "leftovers".  The definition of hoarding tells us it is "the compulsive purchasing, acquiring, searching and saving of items that have little or no value".
In my sixty three years of life I have had five children and three husbands and when they all finally left (except for the current hubby), I was left with the remnants of many years of delightful memories. I was also left with my eldest son's boat; my second son's TV, bicycle and video; my fourth son's car parts; my daughter's unwanted remnants; and my third son's furniture and junk. There were 2 old lounges, 2 sideboards, cupboards, 4 dining tables, 4 fridges and old carpets, exercise machines, not to mention the old farm gear of 3 ride-on mowers, 3 brush cutters, spray tanks etc… and my third husband's pool table, ping pong table and five televisions that he came with. So not all the items had been mine in the beginning but they seemed to become my problem in the end. The biggest problem for me seemed to be the 10 boxes of family photographs I had been left with and all the boxes of taxation storage from my businesses over the years. They always seemed to be getting in the way. If you thought I had enough remnants then…more was to come.
Ad. Article continues below.
The sad day came when my parents passed on and left me half a house of their wonderful treasures. I was not emotionally able to deal with sorting the goods for 10 years so they sat in a garage under my house, untouched. I had really become a collector of remnants and treasures and therefore I decided to include the definition of a collector to see if it was relevant to my situation. Apparently, "a collector has a sense of pride about their possessions and experiences joy in displaying and talking about them".  I really did not discuss my possessions with anyone and certainly did not display them anywhere.
At 63 years old I consider that I come from an era of preservation where an item would be acquired and held on to in case it was needed. It would be used at times over the years and passed on to the next generation or to relatives who expressed a need or want. For example, all my used baby gear, bassinet and baby bath were passed on to relatives and friends when I had finished having children. However back in those days, items use to be built more sturdily than they are today and would last for years. My washing machine was bought the day my daughter came home from hospital and after 29 years and about 13 new gear boxes, it finally was replaced. Today the washing machines are built to last about 5 years and seem to be very cheaply built.
I am not the only one who had this idea of preservation. My sister recently told me she was keeping all her items for my children when she passed on. I had to break the news: they come from a disposable age and do not seem to want anything to be handed down.
Ad. Article continues below.
So did I really have a problem or was I just living in a bit of the past with my leftovers? Not according to my eldest son, who visited from America. He saw the problem as soon as he walked in the house. He just made me stop and look at the old sideboards and cupboards I had clogging up the back bedrooms and very soon he started to pack them into the Hilux ute to take them to the dump. He had said they were collecting dust and not been of any use for years and he was very right. He actually got me started and by the time I moved house a few years later, I culled 37 ute loads of "old treasures" from my remnants.
Since that date I have moved seven times and each time I have thrown out or given away ute loads of items. My third son has taken a lot of the useful items such as painting gear, ride-on mowers, spray tanks and tools and is very happy to deliver them back when needed. Slowly I have started to sell up the big items such as the 5 cars and caravan – slowly I am downsizing – and I even started trimming my 30 year collection of clothes. I have started an eBay business and am adding value items daily.
My daughter called in on the weekend and made the wonderful comment on how clean my double garage was (it was now only sporting about 20 boxes). She had not been to this house before and failed to notice there was another very full 2 bay shed out the back. She is already boasting about my achievements which need a little more work before I can admit they are done. Her final comment was "I should have known you had a shed somewhere!"
My aim is to downsize into a Winnebago and I will be back to tell you just how much I have achieved and how I achieve this, as the months go on. My husband thinks I am joking. Watch this space as my spaces grow! And by the way, my hearing test came back normal!