Wish you were here: The joy of postcards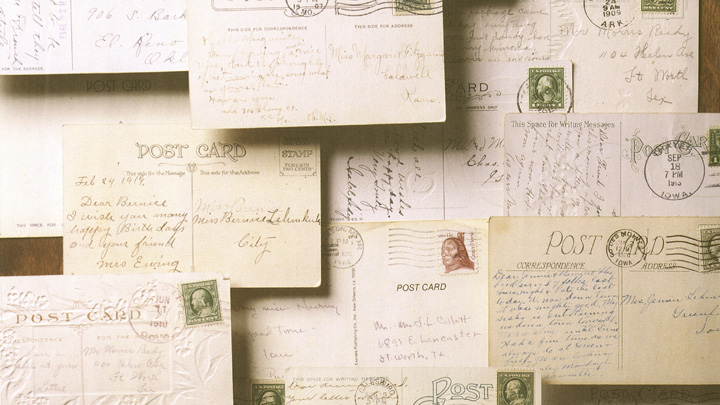 'Wish you were here!' goes the postcard cliché accompanied by a snapshot of crystal clear waters, sandy shores and swaying trees. Before Facebook and Instagram captured real time holiday moments, there were postcards. Picture in the front, text in the back, and no envelope. We would send postcards home from our holiday travels to tell the tales of where we'd been and what we'd seen. Postcards often got home only just before we did, jet lagged and laden with black rolls of photo film to develop and an assortment of souvenir nick nacks to distribute. Coasters to key rings, t-shirts to tea towels and many other souvenirs travelled back with us, jammed into our over stuffed suitcases, hoarded home on international flights in the hope that they would be well received. And when it was time to return back to the monotony of routine, we needed only to glimpse at our array of fridge magnets to remind us of holidays well spent.
Ad. Article continues below.
But long before there were fridge magnets and tea towels, only the very wealthy could take holidays abroad. From the early 19th century, young British nobility and landed gentry, went on what was known as 'The Grand Tour'. With chaperones and tutors in tow, they would travel to Paris, Venice, Florence and always Rome. These aristocrats in the making were to experience the culture and history of places that they had only read of in books. They were to study the architecture, reflect on the way of life in these places and complete a journal of their time abroad. More often than not, time was spent drinking, dancing and romancing, and journals came home blank.
One thing that the nobility did bring home was jewellery, locally bought and expensive, as souvenirs of their travels. From Italy they bought micro-mosaic jewellery, which involved carefully setting a thousand tiny pieces of glass onto a metal bezel to make a detailed mosaic image. They were often of ancient ruins or Italian landmarks and scenery, but as Victorians were passionate plant collectors, flora and fauna featured heavily too, worn on brooches, cameos, earrings and pins, thus serving as a wearable image from their trip.
How lovely would it be to have a dear friend return home with a micro mosaic brooch of field flowers in a thousand itty bitty pieces! But before I go pointing any fingers, I myself am a souvenir shocker. Attempting to be the ever practical and well meaning gift giver, when my sister and I were both trying very hard to grow our families, I brought a Kokopelli bookmark back from Arizona for her. Kokopelli is the Hopi Indian tribal god of fertility. He is depicted as a hump backed flute player with a feathered headdress. Nothing says, 'Good luck with that baby,' like a native Notre Dame. Good intentions aside, I'm sure she would have preferred a micro mosaic snuff box!
Have you ever bought back a well intended souvenir shocker, or sent home a memorable or tacky postcard? What were your best and worst?