Wild creatures are our responsibility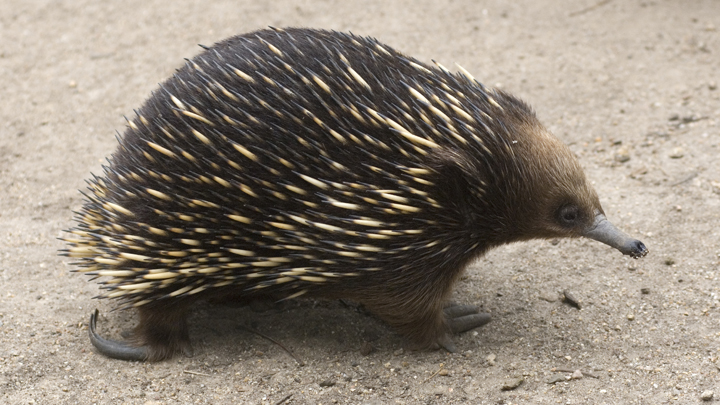 We were out for a pleasant Sunday afternoon drive from Lithgow to Blackheath when my friend stopped the car and leapt out. He ran back for a few paces then called out, "Get something to pick it up with".
I happened to have a towel and a carton in my car in case of injured wildlife. I took the towel to the spot where John was standing and found an echidna at the side of the road. We felt that it was urgent to pick it up and place it in the paddock, away from the traffic.
I attempted to pick it up with John's woollen jumper as protection but this proved impossible. When the creature became aware of us humans it began to burrow. It went straight down, down into the earth. Those spines are like the teeth of a comb, thick at the base and tapering to a sharp point; perfect protection.
I have seen people on television digging their hands deep into the soil under an echidna, and picking it up, but they are trained to do so. We were unable to do this, so regrettably we had to leave our echidna there at the side of the Great Western Highway and hope that it would find its way into the grass, away from the busy road.
I had another brief encounter with an echidna on the road near Oberon some years ago. I was driving along the road with no other traffic in sight when I noticed a small animal beginning to amble across the road onto the opposite lane. On getting closer I realised that it was an echidna and at that moment a bus came from the opposite direction and the echidna had reached the middle of the lane.
Ad. Article continues below.
I decided the only thing to do was to run onto the road and wave my arms frantically at the bus, trying to get it to stop. I suspect that the bus driver did see the echidna, but showed no sign of slowing down. I had parked my car so I jumped out, shutting the door with a loud bang. The little echidna must have heard it because it did a 180-degree turn and hurried back to the grass at the side of the road. Yes, echidnas do hurry.
The bus continued along the road, the driver showing absolutely no concern. Wild creatures are our responsibility; we have invaded their territory and Australian fauna are not dangerous our predatory. They depend on us for their safety.
Have you rescued a wild animal? What do you do when you see a hurt animal on the road?