Why ships beat planes hands down back in the day...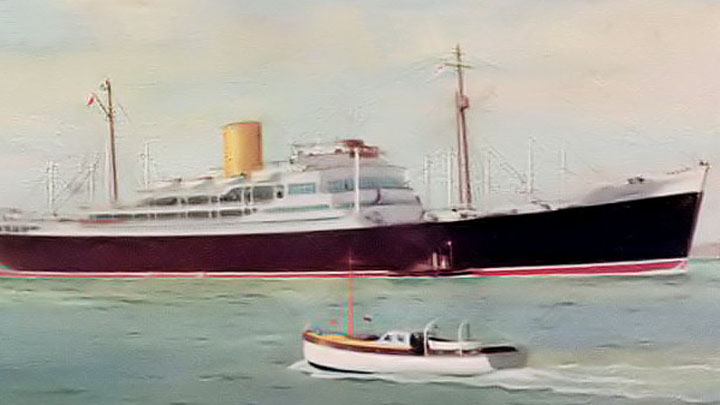 The first thing that struck us when we arrived at Prince Albert Dock in London, 55 years ago, was the sheer size of the beast! I'm talking about the ship that was to carry us off to a fresh life in New Zealand, a country half a world away from the bustling city we were in then. Neither Jacqui nor I had ever been anywhere near an ocean liner before, the best either of us could boast was a ferry to the island of Jersey for me and a channel crossing from Dover for Jacqui, on her way to Paris for a school trip. But even though the Rangitoto was actually a comparatively small, 'one-class' ship belonging to the New Zealand Line, from our vantage point down on the dockside she looked enormous, towering over us like a block of flats (which, in a way, I guess she was!) with her black painted hull making her appear even more imposing.
And it looked even more stunning when we eventually got on board, found our cabin and then came back up on to the main deck, to watch all the activity going on below. Family and friends, still standing on the dock, waiting for the ship to move, appeared tiny, especially as we were looking almost straight down at them, so all we could see were pretty well just heads and shoulders, each with a pale face peering up at us, some laughing, some shedding copious tears! Seeing all the emotions this moment caused, we were very glad we had encouraged our family members to wish us a comparatively quick farewell at Bristol Temple Meads railway station, in Bristol!
Due to our previous experiences being limited to just ferry trips, Jacqui and I wasted most of the first three days of the trip sitting in deck chairs on the main deck. In our ignorance, we had no idea of all the various activities that were going on, around and below us – we had a subconscious mental image that we'd be sitting there for just a couple of days, then it would be ashore again and a new life! Luckily, by the second day I got bored with life in a deck chair and we went wandering around the numerous corridors, state rooms, decks and pool areas of the vessel and found to our utter amazement that there was deck tennis, 'horse racing', sing-alongs, card-schools, (mainly poker), shuffleboard, chess competitions, swimming games and a golf driving range, hitting balls off the stern of the ship! On top of all this, there was the eating!
Ad. Article continues below.
Every meal was an experience, especially to unskilled travellers like us, though I believe most passengers were pleasantly surprised at what was served up to us. For a start, every meal was of at least seven courses, even breakfast, which comprised of cereal, porridge, bacon, fried bread, grilled tomatoes, fresh fruit and cream, jelly, ice-cream, waffles, toast, eggs cooked any way you wanted them, steaks, kidneys, liver, all washed down with a choice of tea, coffee, milk, fruit juice, lemonade and even beer for the occasional customer who required an early one.
And the rest of the day was filled with equally generous and exotic fare, especially dinner when such delights as pheasant, jugged hare, salmon and pate de fois gras were regularly on the menu. Eating was the main event of the day, there's no doubt about that, breakfast from six am until 9am, morning coffee and sandwiches at 10, beef tea at eleven, then lunch from 12 until 2, followed by afternoon tea (with cucumber sandwiches!) at 3. Then came the long break of the day, during the crew's rest period, before dinner, served from 6pm until 8 and supper at 10! I think they used the food to keep us from getting bored during the long, 32-day voyage!
I'd have to say, traveling by sea, in those days, beat flying hands down, except that it was much slower of course. But that didn't worry Jacqui and I – we were, after all on our honeymoon and, as far as we were concerned, the cruise and its food could go on for ever!
Have you ever travelled a long distance by ship? Where did you travel to? What were the good and bad parts about your journey? Tell us in the comments below…