Why I love (and regret) my childhood holidays at the beach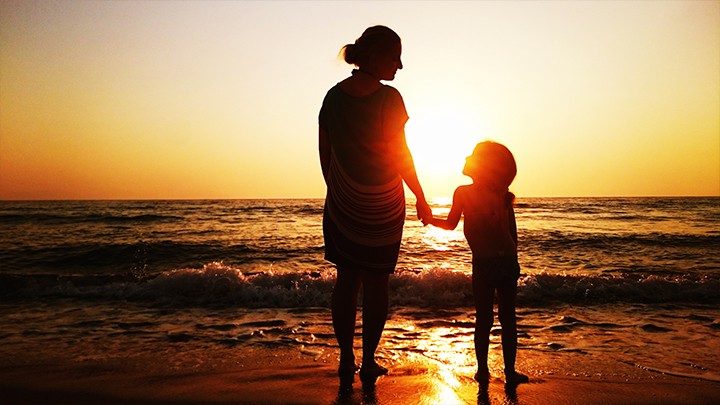 In my childhood, my family would holiday at Avoca Beach. I don't have an abundance of memories from back then, but the ones I do have are good – like the big tin of Sao biscuits Mum always took. We would put lashings of butter and Vegemite on them.
We always spent the holidays in a tent on our own land, Mum and Dad had plans to retire there one day. The drive was full of winding roads; I would often find myself throwing up, but thankfully, Mum was always able to stop and let me out beforehand.
Dad use to insist on taking everything when we went camping; the trailer was always loaded up to the point of being ridiculous. And yes, we even took the kitchen sink!
I remember the outdoor shower; it was a canvas cubicle. You had to soap yourself up, then pull the string for the bucket of water to drop over you head. Dad thought it was brilliant but obviously he was crazy.
We always went in the summer months. The heat could be quite brutal – way too hot to be sitting in a tent – so most days we would play on the sand and in the waters of the nearby lake. There was no such thing as being sun smart; I'm not sure I had even heard of sunscreen back then. I remember always being sunburnt to some degree.
Ad. Article continues below.
The land at Avoca was next to a small school. The government, in all its wisdom, decided to extend the school and take back the land for a minimal amount of money, so Mum and Dad had to find a new holiday spot. The next Christmas break we ended up down the other end of NSW at a place called "Blackfella's Point".
During the nights, I learned very quickly that walking through the water in the dead of the night with prawn nets was not my thing. During the day, Mum and Dad would sit fishing in an open boat out on the water for hours on end. Again, not my thing – it was always stinking hot and I still have no recollection of sunscreen or hats.
We even spent Christmas dinner there one year. There were no fancy tables or plates, Mum had no stove to sweat over, nor a dinner to bake. Instead, we all had Camp Pie sandwiches and they were great – no fuss whatsoever! Nobody was stressed; Mum didn't care how drunk dad got, and Dad didn't care that Mum didn't care.
My teenage years were spent cooking myself on the beach or laying on a towel in the backyard. I would allow myself to burn to a ridiculous degree, then use every product known to man to soften my skin so I didn't peel. I had to have a summer tan and I was totally oblivious to the damage I was doing to myself.
Sadly, I didn't get any smarter as I got older. I kept up my idiotic summer routines even when sunscreen was well and truly on the market. I remember drowning my children in it, but I never used it on myself.
Ad. Article continues below.
I paid a heavy price for my stupidity, with 12 level 3 malignant melanomas, all discovered in my 40s. Having them dug out so many times, each cutting down right into the muscle, made sure I finally learned my lesson.
So slip on a shirt, slop on some sunscreen and slap on a hat – or, like me, you will get to your 60s with skin that resembles a very old leather bag.
Can you relate to Christine's holiday highs and lows? What was your favourite childhood holiday destination? And did you slip, slop, slap?