Whatever happened to the quiet wedding?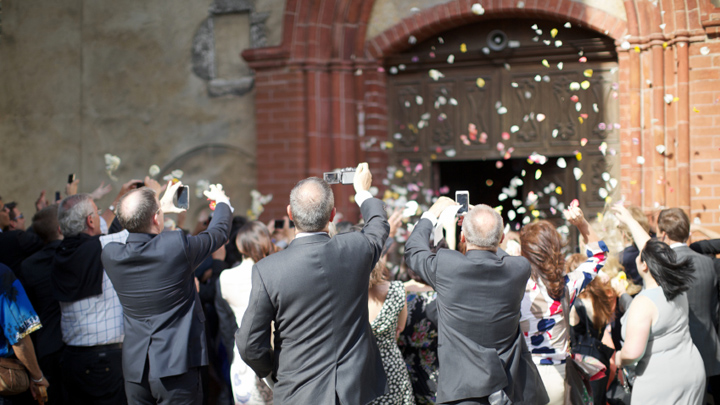 Please tell me that it still happens? I need to know the world is not completely mad. Not all opting for the full blown 700 hundred guests, and a five course meal; How about a 'garden wedding' with simple finger food and cake made by Auntie Doris?
Ad. Article continues below.
I read with disbelief of the weddings costing 30 or 50 thousand, and those are not the really expensive ones, there are more costly examples quoted. Some seem to go out of their way to outdo the 'Big Fat Greek Wedding' and in the UK Gypsy Weddings are horrible examples and overindulgence of every type. For instance, the little girls and the wedding party have to wear huge dresses, the weight of them is physically harmful; they can hardly walk at all. The money spent is enormously over the top too. The irony of that is they then spend their days cleaning the glossy caravan.
Some of the most 'overblown' weddings resulted in a very short relationship, and it almost seems the more they paid the less time they had together. I know every parent would like to give their child a great day to remember, but does it have to make bankruptcy the result?
I have been to some beautiful weddings with fine food and delightful settings and I always enjoy them, but I have also enjoyed the simple ones with just a plain meal, sunshine, and happy faces. Money does not guarantee perfection. Spending 100 thousand does not mean happiness is guaranteed.
Our own wedding was a very hastily planned affair, we had just heard we could go to New Zealand to accept a job, my husband to be was going to a company to start in a new art studio. We had only known each other six months so my parents had very little time to do any saving; I was only 19 and a nurse earning very little. We had a dressmaker make me a dress from a photo in a magazine. I chose heavy silk material from a shop in Bristol, and I remember the dress cost 10 pounds to be made, this was 1959. I felt like a princess: I did my curly hair in a French pleat to look elegant, carried a simple white bible, the bridesmaids' dresses were made by my mother-in-law to be. I bought baskets from the Blind Society and filled them with mimosa and small spring flowers, and the reception was at a local pub. We had sandwiches and trifle, all very simple. Our honeymoon was two days travelling on Dartmoor, in mid winter. That was before our five week cruise to New Zealand of course. But we still thought we were lucky, and we are together 56 years later.
So the young couples who seem to think it is important to have staggering tier of 200 cup cakes or a cake like a castle, then serve gourmet food for their wedding breakfast, my advice is 'wind it back'. Think simple, save your dollars, by all means look as pretty as you can, make sure there is enough good food and a drink for the toast. But please remember it's about the people and love, not money.