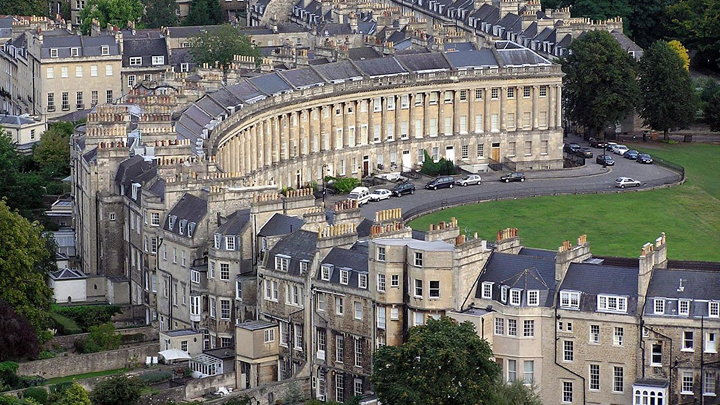 Going to the UK for a holiday? Don't miss the South West of England – Cornwall, Devon, Somerset, Wiltshire, Dorset and Gloucestershire. This is where you'll find thatched cottages, clean beaches, high moorland, world class surfing and a mass of interesting history, a microcosm of everything the United Kingdom has to offer the interested tourist.
And what better place to start than Bath, about twenty kilometres east of Bristol. Here you will find two distinct historical periods, living happily together and drawing tourists from all over the world, numbered in their millions each year! First there's the Roman period, from around 60AD, when the hot springs there were discovered, (though there is good archaeological evidence to suggest they were used much earlier by people of the bronze age). The Romans realised they were on to a good thing, believing the waters had healing powers and they built a magnificent temple there, including a bath complex, much of which stands today; in fact the Roman Baths are now rated as one of the best tourist sites in England, and you can still "sample the waters" there, not for bathing, but for drinking! (It must be good for you because it tastes dreadful!)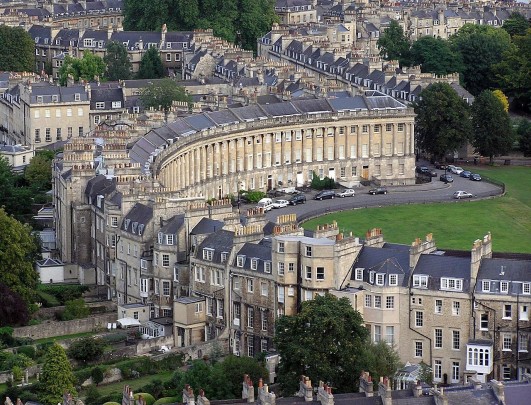 Ad. Article continues below.
The second interesting period in Bath's history happened when the Georgians discovered the hot springs again after the long period since Roman times, when no one knew they were there. The Georgians were great fans of the proposition that hot water pouring out of the ground, was good for you and they proceeded to knock down the small Norman town situated there, (of which just a few streets remain), and built a magnificent new city, incorporating some of the finest architecture ever developed in England. The Royal Crescent, (illustration 1), is a superb example and is symptomatic of most of the buildings of the period scattered throughout the city, all of then designed by famous architects such as the two John Wood's, (father and son), and Robert Adam. Such is the quality of these buildings, that Bath is now listed as a World Heritage Site! Royal Crescent isn't quite what it seems! Although the wonderful frontage was designed and built by the younger John Wood, that was as far as his interest went because the actual buildings behind the ornate façade were built by numerous other builders, producing a variety of styles and quality of workmanship. This variety is very obvious in the attached photo! (Illustration 2 shows an old print of Queen Square, in its Georgian heyday and illustration 3 is a black & white photo of George Street, clearly showing the Georgian buildings, of which the centre of the city is largely built.)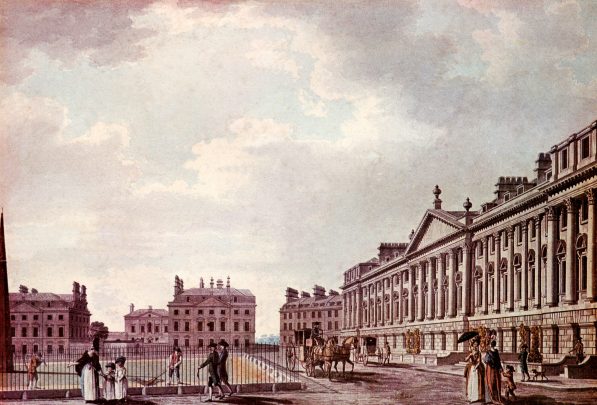 But Bath can offer the visitor much more, with a wonderful, compact shopping centre, fantastic restaurants, offering cuisine from all over the world, the Theatre Royal, that puts on plays to be tried out before major West End openings, plus four other theatres. Bath Abbey was built in the fifteenth century, again displaying some superb architecture and an unusual front façade which has a stone ladder up the east tower with angels climbing up and down it.
Ad. Article continues below.
If you get tired of Bath and it's architecture, the surrounding areas offer more delights for the visitor, including Bristol, again steeped in history, (where in England is there anywhere not steeped in history!), with Isambard Kingdom Brunel's iron ship the 'Great Britain' on display, plus lots of shopping for the shopaholics and many other interesting sites. Also within easy 'striking' distance are Stonehenge, Glastonbury, Cirencester, and Weymouth, but more about those in my future 'South-West tours', but I'll cover these, and other places of interest in later articles. I think Bath and its environs will be enough to keep a visitor busy for several days on their own, with plenty of time to explore further later on!
Have you explored this part of England? What did you think? How long ago where you there? Share your stories in the comments below…