Travelling to extremes at 60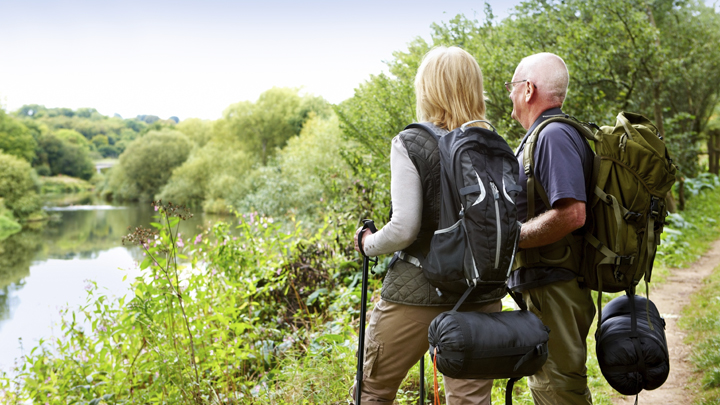 When planning our trip to Tibet at 60 years old, we decided to contact my husband's doctor to make sure we would not encounter any problems with being in high altitude. 
Stephen had been suffering from sleep apnea and had had a few heart problems so we felt we would do the safe approach and ask the doctor. The doctor was not concerned and gave the OK to travel so we set off for China for three weeks and eventually flew into Lhasa, Tibet for four days. As the plane approached the airport in Lhasa, Stephen was having trouble breathing. He did not say anything but knew he was in trouble. It was not until I got off the plane that I noticed the altitude and found if I moved quickly I became light headed. We were accompanied by a guide from the airport to our hotel where we were told to spend the rest of the afternoon acclimatising. The guide said she would be back the next day and suggested we purchase some pillows of oxygen from the hotel to help with the altitude. She took our passports, which appeared to be a Government requirement and disappeared.
That night we settled into our room and both had headaches that would not go away. It was very hot and the air conditioner to the hotel did not work and Stephen found it difficult to breathe. There was a loud noise from a nightclub next door with people chatting outside. We opened the window only to find out that they were burning garbage behind the building. We had been given a pillow full of oxygen each and a tube from it that you put in your nose. You squeezed the pillow under your arm and oxygen flowed through a tube up to your nose.
Ad. Article continues below.
By the second day we both had dreadful migraines. I did not know this was associated with the altitude and Stephen was not feeling well and did not want breakfast. I went down to breakfast and met some nice American couples who had been there for some days. I chatted with them about the oxygen level and they were saying I should go out and enjoy the trip to the palace.
I decided to go without Stephen even though I was not feeling the best. When the guide came to pick us up, I went on the tour of the Potala Palace. It was a long slow climb up the stairs and I had to walk slowly. Many older locals walked past me, which made me feel so unfit, but apart from the migraine, enjoyed the day. It was a splendid palace.
By the time I got back to the hotel, Stephen was worse. He had stomach pains and nausea and was suffering migraine and dizziness, had nothing to eat, could not sleep and looked awful. The guide suggested we take him out in the fresh air for a drive in the afternoon, however when we did, we found he had no energy and could not walk more than about 10 metres. We sat him down to watch the monks chant, but because he was so unsteady, we ended up taking him back to the hotel.
The night was awful. We did not get any sleep and the noise and smoke got worse. The air conditioning was still not working. Stephen was going blue. By 8.00 am I was at the hotel counter begging them to find the guide and our passports so we could get out of there. By this time we had gone through endless pillows of oxygen. I asked them to organise the doctor for Stephen urgently as he was going blue, and the doctor eventually arrived at 10 am. She gave him some unknown medications in little white powder form. We were concerned that these medications would clash with his heart medication but the doctor assured us all was OK.
Ad. Article continues below.
The little white powder she gave us took the headache away in about two minutes. Instant fix. However nothing was going to make Stephen better. His oxygen levels were coming in at 61 per cent. She "pumped him up" on oxygen to about 80 per cent in his blood and left. He used his oxygen pillow but was still going blue.
The hotel located the guide by 12 noon, recovered our passports, and organised tickets for a flight into China for the afternoon at 4.00 pm. But Stephen's condition was worsening. By 1.00 pm I called the doctor again and when she arrived at 2.00 pm he was blue and in total shakes on the bed. She walked in the room and said "Oh no". She spent considerable time trying to pump him full of oxygen with a cylinder but he kept going down as soon as she stopped. We decided to make a run for the airport to try and get him out of the altitude. I paid the doctor and the guide to accompany us to the airport and we had to put the guide in the back with the luggage so we could fit Stephen alongside the doctor and the oxygen cylinder.
On arrival at the airport I had to swap my boarding pass for an oxygen bottle for Stephen so we could go into the security area and wait for the plane to board. I was sitting there feeding him oxygen when the American tourists came up to us saying "Oh my God! What can we do". Stephen looked extremely sick. The old American gentleman who looked to be in his 80s, took our heavy hand luggage, and his wife organised for us to get on the plane first. I quickly swapped the oxygen bottle back and got my boarding pass and boarded the plane with Stephen.
The plane took off and as soon as it reached a certain height Stephen recovered and we went on back to China!
Have you ever gone into high altitude and encountered health issues? What happened? Tell us below.