Tour through England with a local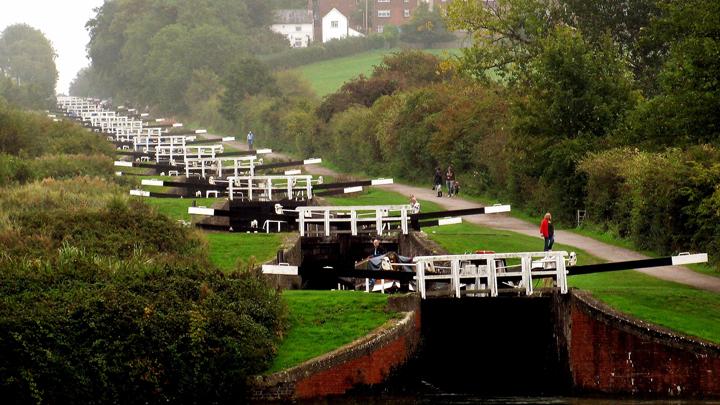 The trouble with touring around somewhere like England is the problem of deciding which way to go next – there is so much to see. Take my recent "visit" to Bath for instance. From there you can head north into Gloucestershire with its historic towns of Cirencester, Cheltenham and Gloucester, ancient castles like Berkeley and Slimbridge Wild Bird Sanctuary. Further north is the Lake District, a part of the country where the Brontes, Wordsworth and Beatrix Potter lived – there must be something about the area for it to produce so much talent in such a small area!
Or you might choose east or south east. There you'd find Stonehenge, Avebury Circle, Old Sarum, Longleate House and Silbury Hill, in fact most of the really ancient history of England is centred around this part of the country.
South lies Weymouth, adjacent to the mighty, stand–alone rock known as Portland Bill, with Chesil Beach further to the west, where locals claim to be able to tell which part you've visited by the size of any pebbles you bring away. Along this stretch of coastline there is also Southampton for the shopping and eating, Portsmouth for the famous docks where the Victory and the Mary Rose are on display, and the Isle of Wight, Queen Victoria's favourite holiday haunt.
Go south-west from Bath and you enter some of England's most beautiful countryside: tiny fishing villages in Cornwall with streets no wider than a car, calm and peaceful beaches on the south side of the peninsula, florid waves pounding the north side, making it a popular spot for surfers from all over the world. You want wonderful shopping? Visit Plymouth, Torquay or Exeter. Busy, friendly beaches? Go to South Devon's jewel, Torbay or Cornwall's Newquay or St. Ives. Or if you prefer a bit of peace and quiet for your adventuring, drive up on to Dartmoor, a great dome of granite with Dartmoor Prison sitting right on the top, and the adjacent Exmoor, also known as Lorna Doone Country because this is where her story is set.
Ad. Article continues below.
If you drive west from Bath the first place you see is Bristol, an area I described in greater detail in my last article on Bath, so I'll say more about the place at a later date. But that's not all there is to the west by any means! Just south of Bristol is the seaside town of Weston-super-Mare, though some would question the word "sea" in conjunction with the place. The tide here disappears over the horizon when it is low, leaving behind several miles of thick glutinous mud which also discolours the water when the tide is in! Still, it is a place that gained its popularity from the north-country mill workers who used to come here, many years ago, in the same way that mill workers also went to Blackpool, a very similar city. Whole towns used to close down for two weeks in Lancashire, and believe it or not, whole towns would go on holiday together, not too bothered about the colour of the sea, but out to have a good time. Weston provided that, and it still tries to today, even though there are no more mill workers.
If you want to go even further west, cross the River Severn via the Severn Bridge on the M4 and very soon you will find yourself enjoying the delights of Wales. Wales provides stunning scenery, great castles, superb food and the highest mountain, Snowden. We've travelled by car along the byways of Wales for three hours or more, without encountering another vehicle, but admiring beautiful lakes and stunning valleys, all the way.
This article is only intended to 'whet your appetites' about one of the most interesting countries in the world, all stuffed into a tiny package no larger than the State of Victoria. I hope to expand on the information I've included here over the coming weeks and I hope you might enjoy reading them, when planning your visit to "the Old Country"!
What do you think? Would you go town-hopping, or do you prefer to stay in just a couple of places on your trips away?