Tobe Frank – You got what you asked for…well some of us did
To be frank, Aussies did themselves no favours on the weekend.  Well, not quite true.  On Saturday we were all faced with two important votes.  We were handed a green slip, which required a simple decision, and a beach towel ballot behemoth, comprising a laughable list of parties, requiring more numbers than most people can count to.  The result of the simple green slip process was easy, well-considered and obvious, but being Aussies, it seems we stepped up to the plate on the white form and let our sarcastic side do the thinking.  And thanks to a leaky, messy preference process that has not matured with the size of the ballot paper, we got what we voted for… a bunch of freaks and morons that are representing us! Can you imagine these dickheads around a boardroom table?  Well they are running the country's biggest company…Australia Inc.  I'm thinking of selling my shares.
This isn't an ABS census people…it's genuinely funny when, in the name of statistics, 25,000 Aussies band together and nominate Jedi Knight as their religion in an effort to have it statistically recognised.   I think we can all appreciate the humour in that.  The consequences are in fact inconsequential.
But fair dinkum people…I thought we'd all had enough of this dysfunctional government (and that goes for both sides!).  We've endured three years of minority rule and policy frustration at the hands of our last electoral efforts.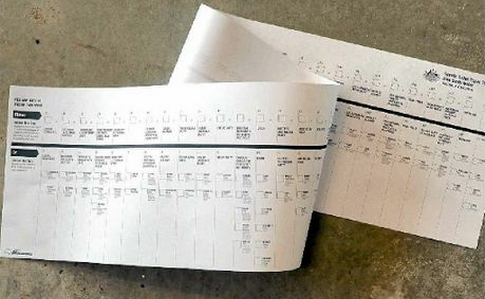 So, we have a think this time, elect one side with a clear majority, providing false hope that they will be able to slingshot our economy into recovery.  But when we come across the Thong Throwing Party, The Sex Party, The Pot Smoking Party and the 21st Birthday Party, we simply can't resist the urge to lob in a googly.
Ad. Article continues below.
Well done Australia.  Not only is the trophy cabinet empty at the moment but Reuters are telling the world, "we've got guns for everyone, souped-up cars, as well as mechanical dinosaurs and a Titanic replica – welcome to the new dawn of Australian politics". Again we're a laughing stock in the world of politics.
Now, as critically important policy slides out of the lower house it will smack head on into the oncoming VL Commodore from the Australian Motoring Enthusiast Party.  Or maybe it'll get crapped on by the roo poo, from the Sports Party senator, flung in disgust that his Boonie for Speaker policy failed to stick.
Take notes people…the pork-barreling and deal broking for the next 3 years will be best-selling book material.
If only I could win arguments with the missus with only 0.5% primary vote, with preferences from the dog.