Tobe Frank: We didn't get that far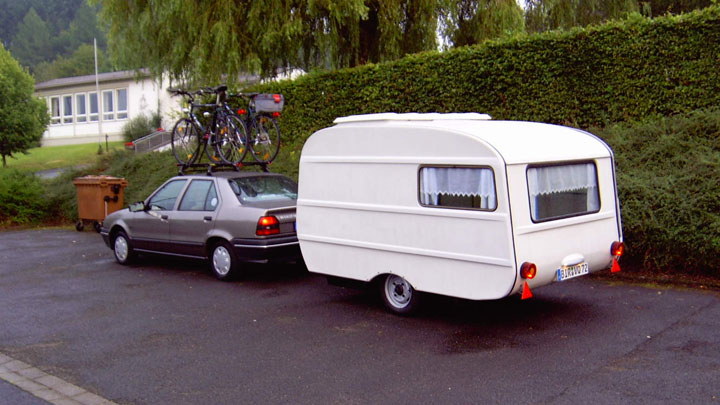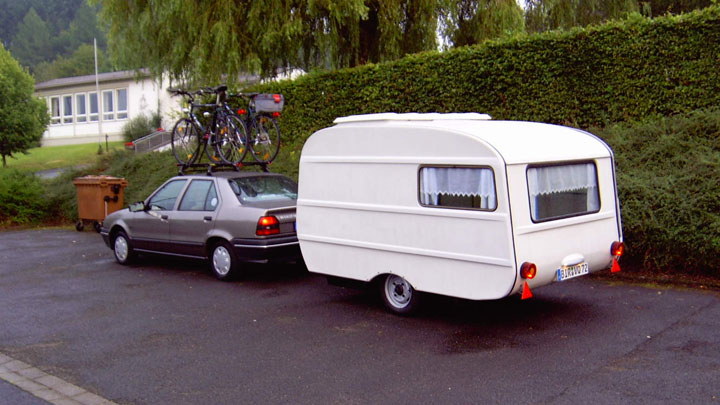 To be frank our first trip out with the caravan attached has been a complete failure.  We made a whole sum total distance of 1.2km… and it cost us $1 per meter to get there!
Here I am parked up for the night in a local caravan park, just down the road and round the corner from my own home, having shelled out $1200 bucks for the privilege.  Let me explain…
As you might remember, the missus and I bought our van a few weeks ago now and we are finally taking it for it's first real trip out on the open road…who doesn't just love a road trip?  It has taken the missus until now to be satisfied that we have decorated, detailed and decked out the van sufficiently enough to be able to head off in comfort for as long as we want… it's either that or we ran of space for anything else!
The van was being stored out in a mates paddock, so the day before we were due to go, we took all our clothes, food and other gear out there and began to pack the van.  The first thing I noticed was the battery was near on flat.  'I' must have left a light on or something last time we were out here installing a soap dispenser, or hangin' the pleated curtains, or scattering the scatter cushions (which clearly were not going to stay put they way I drive… even further scattering the scattered scatter cushions!) putting the doilies, tea cosy's and tablecloths away in what little space remained.
Ad. Article continues below.
Thankfully, we'd also brought with us the genie to charge up the batteries and get things chilling down overnight.  So we hooked everything up, finished stuffing things in drawers and cupboards and went home for our last night in the apartment for who knows how long.
Next day we were up early and looking forward to our adventure.  We drained the last dregs of juice from the bottle, scrambled up the last four eggs, leaving nothing in the fridge but condiments and butter.  We took one last admiring look around (God knows what the kids and grandkids will do to the place in our absence), locked the door and headed out to the paddock to hook up the van and we'd be on our way.  Our target for the day was 250km down the road.
Well, what do you know… I first god damn thing I noticed was that the battery was still flat… flatter than a shit carter's hat.  Brand new battery had done  whole sum total of zero hours useful service (who knows how many un-useful  hours it had done lighting up the dust and bugs in the paddock).  Oh well, not to worry… we'll just holler a marshall, or in reality, drive down the road to one of their outlets.  Let's not let this spoil the start of our trip… 30 minutes and we'll be on our way.
"You want how much(!) for a new battery?  $500 bucks!  It's a special battery you say?!  Well the last one wasn't so 'kn special was it."  He says, "I can throw in the install sir."  I tried hard to remember to breath, pulled out my wallet, put my hands on the bonnet, spread my legs and proceeded to take it up the tailpipe!
Ad. Article continues below.
Ok so we were $500 bucks down, 500 meters down the road, but we were only half an hour behind.  Fine, crappy start but I wasn't going to let it get the better of me.  We were back on the road and had 249.5kms to go.
Then I noticed that the brand new battery, only just installed, was not being charged by the car.  FARK!  What was going on?  I knew it wasn't the battery, so we pulled into the Toyota yard that just so happen to be another 300m down on the left.
"Sir, it's gonna cost $700 to install another wire from the doohickie to the thingamajig because the car in its current configuration won't recognise the third battery – the one in the van."  I can't tell you exactly what was wrong, as I temporarily passed out at the news of another $700 bucks.  I simultaneously reached for a brown paper bag and the battered remains of my wallet, but was pulled up short by the mechanic who meekly whispered that the part wouldn't be available until tomorrow.
Rather than spoil the balance of the day, which was only a few hours young, and rather than give anyone or anything else the chance to complete 'Operation tear Tobe a knew one', I noted to the young man that we would be back by stated hour tomorrow, we would have whatever done as required to the car, but until then we would be in the holiday park 400m down the road.
So there you go.  We had reached our first night's destination by 9:30am, a grand sum total of 1200m from our front door.  We had spent $1200 bucks or a $1buck a meter.  I was bow legged and in need of a beer… which is exactly what I proceeded to do.
THe first time you took off in a caravan was it successful? Or did something happen like Tobe? Tell us in the comments below and share your rookie grey nomad memories with us…