Tobe Frank: Plain packaging for political parties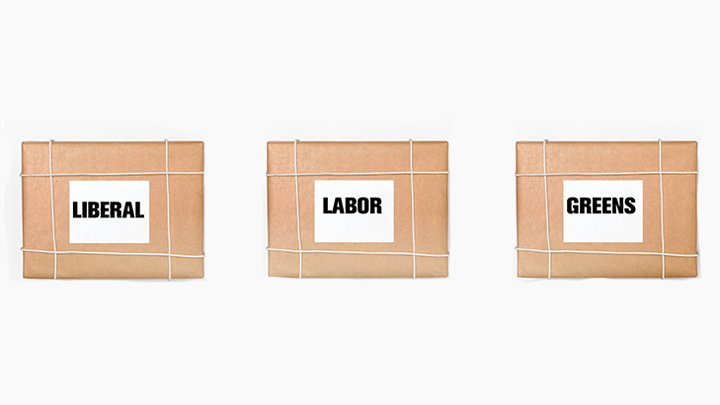 To be frank I think the idea of plain packaging for political parties is simply brilliant. Shaun Micallef briefly suggested the idea on his show Mad as Hell and I thought it worthy of a bit more exploration. After all the ABC show can't be seen to commercialise or promote it…but I can!
I can see it now. Each party neatly wrapped up in a colourless little box, complete with health warnings, graphic images showcasing the side effects of ill-found hope and budget black holes. A tab on the side informs the punter of the ingredients, preservatives, artificial colouring, fat content and, in a similar fashion to grog and its alcohol content, advising how successful they're likely to be for Queen and country – 5 per cent, 12 per cent or maybe 40 per cent – not likely to be anything as potent as metho. It will warn the voting public that the consumption of one too many standard drinks will lead to complete incapacitation and incomprehensible mutterings whilst falling asleep during Question Time.
Other possible health warnings could include:
Pork barrel(ling) contains MSG – Multi-Salacious Gouging.
Shake the sauce bottle at your own discretion.
Beware of shirtfronts and smuggled budgies.
Keep in freezer after opening to prevent rot and other infectious diseases.
The shift to plain packaging could also come with the introduction of a new tax, as exorbitant and preposterous as the post prime ministerial privileges. The PM and the Opposition Leader, Cabinet Ministers and MPs, faceless factional party room dimwits and senior policy advisors would be slugged at a base rate depending on experience (or lack there of), plus a variable factor for idiotic BS and time wasting. MPs who proposed things as absurd as gender-neutral toy aisles would be taxed particularly harshly. Mr Palmer would be off the rich list quicker than you can say lunchtime and we'd be back in surplus by tea.
Ad. Article continues below.
I wonder what the returns policy would look like? Try before you buy? Not happy after 120 days? Didn't like that policy backflip or word trickery? No worries: get your money back or swap for something else. Mind you if there weren't exclusions for broken election promises, we'd never leave the polling booth. Would there be a 10 per cent price guarantee – you know, if you find it elsewhere cheaper we'll beat it by 10 per cent? There's a budget saving measure right there folks.
With plain packaging in place by the next election, we might actually be able to vote on a plan and not a party – a fully detailed, fully costed, independently audited plan, including their policies and commitments for jobs, roads, healthcare and debt reduction and the like. The plans would be evenly promoted, saving the taxpayer millions and sparing our airways and idiot boxes the pathetic slanging matches and games of he said she said.
The party that secures the most votes (there's no preferences in this system) for their anonymous plan forms government and is charged with executing that plan. Failure to deliver on commitments and policies results in an electoral fine, equivalent to the percentage magnitude of the balls up. They will then start the next election that percentage behind the eight ball. In the meantime they'd be paying handsomely through the aforementioned tax!
Or here's another idea…maybe we should require each government to obtain a licence? Find yourself elected, Anna? Start on L plates for 12 months (with each MP wearing a sign on their forehead). They must pass an economic management test before being issued with P Plates and 4 demerit points for the balance of their first term. If you get re-elected, an open licence is awarded with 12 demerit points. Fines are issued for policy back flips, out right lies, costing calculation errors, and down right waste of taxpayer's money. At the expiration of said points we are sent back to the polls.
Ad. Article continues below.
Either way we'd better get use to those polling booths!
What do you think? What other health warnings should adorn the plain packaging?