Tobe Frank – Navigating unchartered waters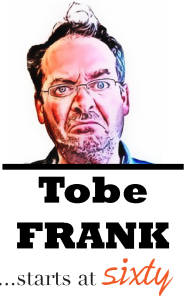 To be frank, whilst I had always been a water baby, I'd never been much of a boat person.  My last captaining effort, a houseboat on the Sandy Straits behind Queensland's beautiful Fraser Island, required an 8-hour wait for the tides to turn to allow the beached houseboat a chance to refloat itself.  I had made a bold but ultimately unwise choice to take a short cut across the passage.  Blatantly ignoring the channel makers, waterway maps, depth sounder (and its increasingly alarmist bleeps) and the primeval screams of those on nearby vessels, I found comfort in my sixth-sense connection with the water and went for it.
I put the misadventure down to being a little queasy after having said hello to my breakfast earlier in the day, due to some choppy seas.
But here I was, at the boat show, seriously contemplating a standard issue post-retirement purchase…the tinnie.  No, not a slab of VB…the other sort of tinnie…the sort that provides a medium for securing hours of peace and quiet, a sanctuary away from the nagging, I mean rat-a-tat-a-tatting of the missus' incessant sewing.  I mean how is a man supposed to enjoy the blissful cricket commentary of Bill Laurie, with a patchwork quilt being assembled in the background.    Whilst on one hand I'm not complaining…at least she seems to be more budget conscious…not surprising given the Mastercard was still receiving weekly counseling sessions following it's near fatal assault…and you'll never see me quarrelling with the head seamstress over the advantages of interfacing seams…I am simply saying that there is a time and a place.
Ad. Article continues below.
Seems like my place might be in the middle of the river, trying in vein to remember the difference between the bow and port side and which one marries up with the red and green beacons…maybe, I'll just watch ice cubes thaw in the sink instead…