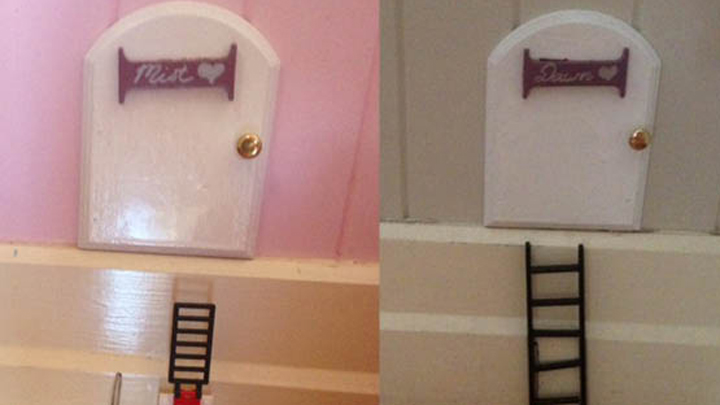 To be frank, I've created both a monster and one of the most magical memories of my life, and hopefully of my grand-daughters too.
A few weeks ago I saw an idea on Pinterest and decided to have a crack at it.  The picture was of a teenie tiny fairy door that you glue to the wall just above the skirting boards.  Leading up to the door was a teenie tiny ladder (apparently either fairies don't have wings after all, or the department workplace health and safety got to them too).
The theory is the kids think they have a fairy living in the wall.  I thought that would be perfect for my granddaughter.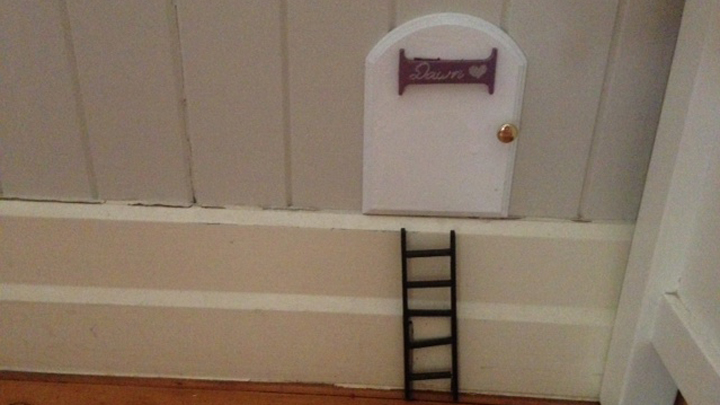 Ad. Article continues below.
So many of you might remember that I'm about as handy as a one armed man in a clapping contest, but I have been honing my skills at the men's shed and thought this might be one worth having a go at.
Anyway, I made a tiny door, complete with brass door knob and name plate, and a tiny ladder.  The next time we went to my daughters house to sit the kids, I snuck into her room well after she fell asleep.  I glued the door and ladder to the wall in a reasonably obvious place and left.  I had no idea how long it would take them to find them… Maybe we wouldn't even be here.
Well, it didn't take long the next morning… I heard the shrieks from my youngest granddaughters room… "Nana, Grandpa, come here, QUICK!  WHAT.  IS. THAT?" She said pointing.
"Well well, what have we here", I said lowering my glasses for a better look.  "Sweetheart, I think what we've got here is a fairy door."
Ad. Article continues below.
"What do you mean a fairy door?" She asked incredibly excited and confused all at once.
"A door, to a fairy house… Dummy!"
HOLY SHIT!
Well, she didn't say that exactly but to me her reaction was the child equivalent.  She knocked on the door.  No answer.  She called out.  No answer.
I said, "maybe you should write her a note? "
Ad. Article continues below.
And with that she was off.
In the weeks that have passed, my little princess and Mist (that's the fairy), have been exchanging letters and gifts like you wouldn't believe.  I've given my daughter instructions to nab any letter and send me a picture of it so I can write a reply, in size 4 font (to which I need the binoculars to proof read) and then I email it back to her so she can print it out, fold it into a neat teenie tiny envelope and leave it out.
Oh the fun we've had.  The pure joyful innocence.  It's truly magical.
The first letter went like this,
Ad. Article continues below.
Dear Mist,
My name is Rhianna, you can call me Rhi for short.
Can you please come out of your house so I can see you?
Can you please give me some wings so I can fly with you?
You can see that there are some gifts in front of your door.
Ad. Article continues below.
Do you want to come to Tasmania with me?
Tasmania is a country if you wanted to know.
I will not be mean to you Mist
Lots of Love
Rhi
Ad. Article continues below.
Honestly, it's just priceless.  It's become quite a useful disciplining tool too.  If she wont listen to her mum, Mist puts it in a letter.  Be nice to your brother and sister. So she is.  She doesn't listen to me like that!
But oh the monster I have created.  If we forget to write back there's big questions and we have to come back with ingenious reasons as to the unacceptable delay.
Oh I was away on holidays at the Rainbow River (not really a lie)… My sister Dawn was sick and I had to visit her.
We've also had the dog eat the ladder, yes right off the wall, and we've had to make an emergency ladder out of Lego, so Mist could come home.
Ad. Article continues below.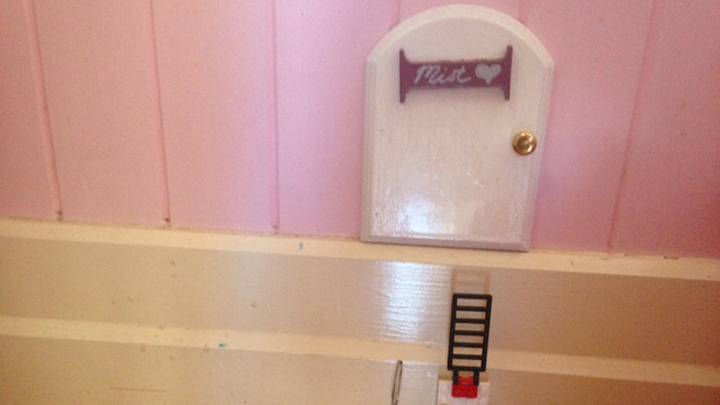 We've had letters go missing… Maybe the dog again. We haven't remembered what we said in previous letters and Rhi picks up on the slightest discrepancy and shoots a question right back seeking clarification.
But despite the work in keeping the magic alive, it's so worth it.  I'm keeping all the letters and will give them to her when she's 18… Probably long after she's  forgotten about Mist.
Ad. Article continues below.
And in this day and age of iPods and computer games, it really is nice to see an eight year old girl being an eight year old girl, believing in the magic of fairies… As they should.
I just hope I can keep it alive… Which might depend somewhat on the dog!
Have you done something similar to Tobe  to bring a smile to your grandchildren's faces?