Tobe Frank: 2016 World Champion of...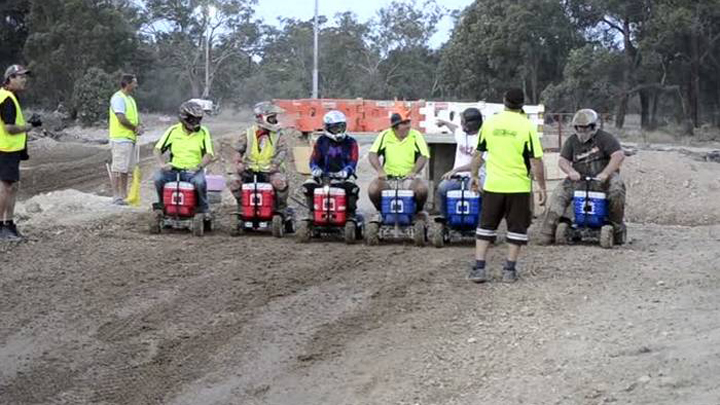 To be frank I have, after almost two years of retirement, found my calling. It hit me like a meteorite from outer space…hard and by complete surprise.
I was watching the news the other night and was spellbound, mesmerised, transfixed even by the running of the inaugural Motorised Esky World Championships! Yes that's right…not only is a motorised esky 'a thing', it's so much of a thing that there's a world championship event! What could be manlier, sportier, and more Australian than motor racing on an esky?
It got me thinking…what do these things run on? Freddy Flinstone peddle power? A VB 6-pack…a V6 so to speak? A slab, carton, case, block or brick depending on where you come from? Does it run purely on male testosterone? Who knows, who cares? I'm in and I resolve to become the 2016 Motorised Esky World Champion!
I can here Neil Crompton's voice now… "and here comes Tobe Frank, on the 2015 GT Willow Blue esky…he rounds the corner, lines up and puts the foot down for the straight. But what's this, he's blown his bung…there's cold water running all over the track. He's running low on fuel and will need to lighten the load if he's to make it to the bottle-o (the pits). He leans over, driving hazardously with one hand and reaching into the esky with the other. He pulls out a tinnie and slams it down fast. That seems to have done the trick. Tobe has knocked off three of these on the last two laps, so pretty soon it'll surely start to effect his driving…but until then this is thrilling racing from the Esky racing veteran. Mind you, how that beer gut provides him better aerodynamics is beyond me".
Ad. Article continues below.
In researching the event, I came across a few references to motorised eskys. All, without fail, were in relation to some police officer having pulled over some poor soul for drink-driving, you guessed it: on a motorised esky. Well derr, what were they expecting? The esky to be full of soft-drink? I'm sure the esky is not chosen as the transport mode of choice because of its comfort factor, safety features or colour range. It is chosen, my friends, because of its ability to keep beverages of the amber nectar variety, ice cold in a convenience place – between your legs – whilst driving down the road.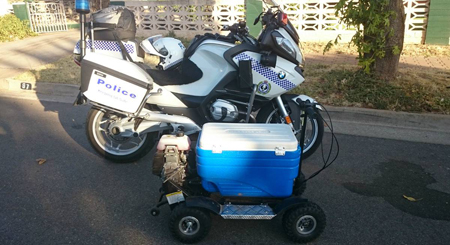 How is this wonderful invention not more of a thing? Places like Hervey Bay in Queensland or Terrigal in NSW are chock full of mobility scooters. There are scooter retailers on every corner. Why are they not all selling eskys on wheels with motors, full of grog? Mr Abbott should be providing a one off tax concession for every Australian pensioner and retiree to buy one of these. The social outcomes and connectivity alone would be worth it…not to mention the employment opportunities for civil contractors to build mile upon mile of motorised esky pathways around our towns.
There's so much more to this topic but I'm off to shave down a few millimetres off the bottom of my esky, to lower the profile and reduce the wind resistance. I've got 12 months of esky engineering and tinkering to do before the next World Champs…and the trophy is calling my name.
Stay tuned!
Tell us, do you think you or your partner would participate? What crazy activities or competitions have you been in?