There is always hope: helping my family and staying positive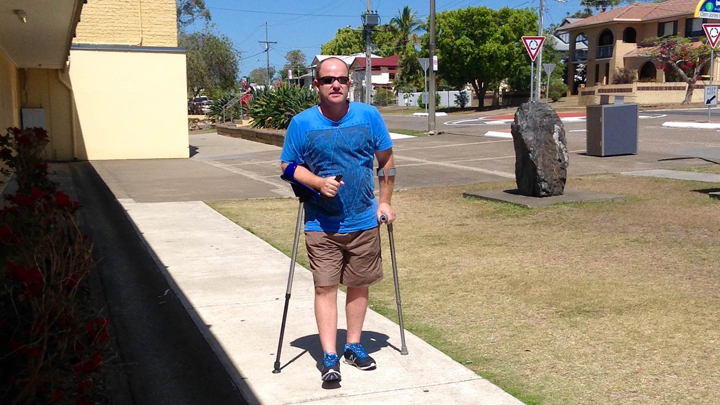 We have hit a wall again – my son gets very enthusiastic about progress with his recovery, then whammo, something bad happens. This time it's nerve pain problems; it's stopping him from getting off the crutches. He hates those crutches with a passion, the gutter crutch throws his shoulder out all the time. Maybe he should do a 'What Pisses Me Off' blog! It would be short,"The crutches piss me off", the end.
Next step is a neurologist: I hope he will help because my son cannot move forward and he sure as hell does not want to go backwards. All he can do is try and maintain the level of fitness he has reached so far until the nerve problems are resolved.
We went to the arm surgeon the other day – he said there is no way he will be able to give him 100 per cent use of his arm back, there is just too much damage. He is hopeful that he will be able to give him 50 per cent. So at least he should be able to eat a hamburger, try eating one of those bad boys with one hand…it's not easy.
Being in hospital for so long, he gained 10 kilos; surprised? Well the food was exceptional where he was! He has been trying to lose it without success, his mother being a god awful cook didn't help, so he went onto Lite 'n' Easy. I prepare it all for him and it is good food, way better than the garbage I cook, and he has lost just on 4 kilos, which helps with movement issues and creates less stress on his legs.
One day he will fit back into his clothes. Don't get me wrong, he is not walking round naked – I bought him all new stuff – none of it was expensive as it is only meant to get him through this journey. Everything has to be elastic waisted and his shirts are two sizes bigger than normal so he can manage to get dressed by himself with his dodgy arm.
Ad. Article continues below.
Mum had a cancer cut out of her forehead yesterday, she was a bloody mess (literally) when we got home from hydro. It was so hot yesterday we wanted to drop her at the doctor and I offered to pay for a taxi for her to come home. Apart from the discomfort she also has the cancer in her nose to consider, but no, she was going on her scooter and that was it; she is such a stubborn old bugger. But she is doing a lot better today; when we left she was crocheting another baby rug, she does them for the Cancer Council.
Over the years many people have told me I need professional help. Since I started writing for Starts at 60 I have been feeling better – it's like therapy for me. I am always amazed when my blogs are accepted and published. I was asked how do I stay upbeat, well I have no idea, that's just me I guess. There is no point being negative, I will have plenty of time to be negative when I am dead. Mum thinks I am crazy, maybe I am, maybe they took more of my brain than they should have, maybe one day I will end up in a locked facility!
Are you like Christine? Do you have obstacles in your life but still manage to see the bright side of life? Tell us about it!