The unexpected joys of golfing around the world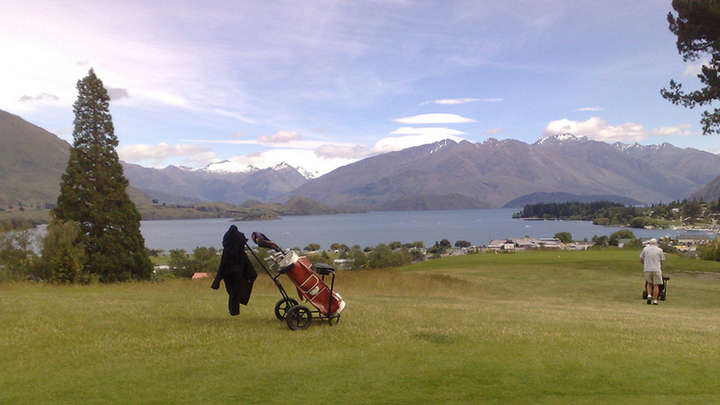 Some sage once remarked that the game of golf consisted of a lot of walking broken up by disappointment and bad arithmetic. There are elements of truth there, but how much truth depends on which part of the world you're playing in at the time. In most parts of America for example, walking is not only frowned upon, but banned on some courses. You have to take a buggy. This means that an overweight, cigar puffing septuagenarian can still have a handicap of three. In other parts of the world he'd have been carted away to the mortuary on the second hole.
In the Philippines the arithmetic is unnecessary, as your caddy will do the scoring. At the end of the round you'll be surprised at just how well you've done. This is usually because your caddy has had a hefty bet going with the other caddies in the foursome. Disappointment can be universal, but in South-East Asia it rarely lasts for long. I have spent the some of the most enjoyable days in my life playing golf in this region. Yes some days the humidity might be akin to an herbal sauna, but the frequent drink stops and the quality of the courses make it all worthwhile.
In Thailand one of the first things you'll notice is an apparition that looks like a moving Bedouin tent. Don't be fooled. Look more closely and you'll see that the tent is wearing a smile. This is your caddy. And the reason she's dressed like that is to protect herself from the sun. You'd be well advised to at least partially follow her lead or you'll end up with skin that has the hue of the rising sun and the texture of the Dead Sea Scrolls.
Ad. Article continues below.
In Thailand the caddies are invariably female. Golf is still a relatively new adventure for most Thais and consequently, particularly on some of the newer courses, many of the caddies are not that well versed in the intricacies of the game. That's fast changing of course, but your tee shot is often followed by "Oh good shot, good shot! Oh! Dok nam! (In the water). My friend Graham, with whom I passed many happy hours on the Banyan Tree course in Phuket, was even given the nickname "dok nam" by the caddies. I thought this a trifle unfair, as Graham, although not a creature of grace on the course, did manage to hit the odd fairway.
In the Philippines many of the caddies are male and most can play better than Tiger Woods. In fact most of the females can play better than Karrie Webb. This has its pluses and minuses. One plus is that you can receive expert tuition throughout the 18 holes. A minus is the constant personal humiliation as you hook the ball from hazard to hazard, knowing only too well that your caddy would have birdied the hole seven shots ago. There are other pluses. Your ball, which you may think has landed deep in the jungle, will often reappear on the edge of the fairway. This is once again because your caddy has a heavy betting with the other caddies and regards "lie" manipulation as being essential to his/or her financial future.
But Filipino and Filipina caddies make golfing in the Philippines a sheer delight. Two of my friends actually married their caddies and one now lives in the mountain city of Baguio, while the other soaks up the sea air in San Fernando, La Union. Baguio has two of the most enjoyable but challenging courses in the country. Camp John Hay is a course where one hole is aptly named Cardiac Hill. I think it was on this hole that Friend One found true love after his future wife (then his caddy) pulled him to the crest with a three iron. The Country Club also boats more undulations than Pamela Anderson and another friend nearly plunged to his death here after falling off the 14th green. Lake Paoay near the northern city of Laoag is another favourite and it was here that former President Marcos used to play when enjoying the splendour of one of his summer retreats (make that palaces) that looked out over the course. I remember once watching what looked like a small army surrounding a man who was slashing his way up the 7th hole. After he'd hit yet another ball into the lake I asked my caddy who it was?
Ad. Article continues below.
"Oh that's the President," he replied.
"What handicap does he play off?"
"Scratch."
Indonesia is another great place to practice the Art of the Goof (as author PG Woodhouse once described the game.). I've played on both Batam and Bintan Islands and both boast some magnificent courses. Sadly my last round at Tering Bay on Batam was marred by the fact that I scored what must have SE Asia's ugliest caddy. Not only did she have a face that looked like an erupting volcano, she also had a disposition to match. She stopped talking to me after the first hole and then scowled and spat her way round the next 17. (I later discovered she'd bet on my prowess before the game and realized she'd backed a loser after I took six to reach the first green on a par 4.)
At Rio Bintan I've been blessed with caddies that should have been competing in Miss World, it's just the monkeys that are the problem. Yes monkeys! To be honest I'm not sure of their species but I think they're of the Rhesus or Macaque persuasion. Either way they're masters at thievery and extorting food with menaces. When putting you cannot afford to leave your valuables in the bag on the side of the green, you must take everything with you and place this conglomeration of wallet, chips, mobile phones, drinks and chewing gum in a pile by your feet. This pile of goodies must then be defended at all costs. The ringleaders will try to intimidate you by showing more teeth than Mr Ed, but stand firm!
Ah the joys of nature!
As I said at the beginning I'd rather play golf in SE Asia than anywhere else in the world. I mean, for heavens sake! In Australia you have to pull your own buggy! The wildlife can also be more hazardous. Another friend of mine encountered a death adder when removing his ball from hole at the 6th at course near Townsville. The death adder was peeved. He'd been enjoying a peaceful nap when my friend made an unexpected and highly unusual birdie. Considering the death adder comes in at No 6 in the World's deadliest snakes, peeved is not a good look. Wisely my friend left his ball in the hole.
Ad. Article continues below.
But I think the final anecdote must go to my friend Smutley (an unusual but richly deserved nickname). He also works as a highly accomplished director at ESPN Sports in Singapore. This means he gets to play golf a lot. Often for free. One day he was playing at Laguna, near the airport, with three businessmen. One of them was having a shocker! So embarrassed was the poor chap by his lack of dexterity that he called everyone together and formally apologised.
"I'm so sorry," he said. "But it's my maid's fault."
"Your maid's fault! How? She's not even here!"
"Well she washed my clubs in cold water."
"So!"
"Well I told her to wash them in hot water. If she'd washed them in hot water I would have played beautifully!"
Says it all really.
Share your thoughts below.