The story of my wonderful mother, Patricia.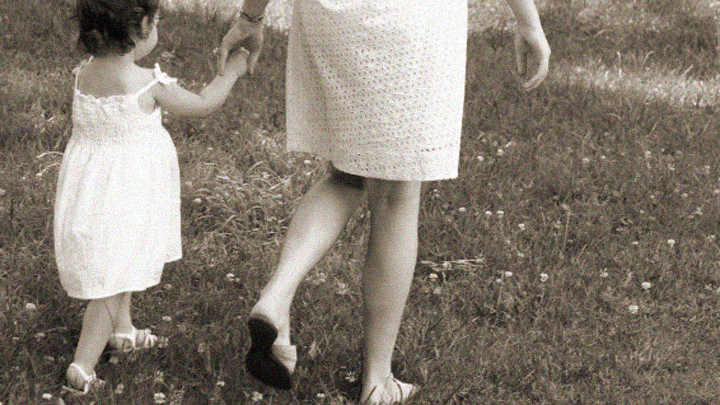 The day we buried my mother, her friend hugged me and said "as long as you are alive, so is Pat". She could pay me no higher compliment, because the woman I wanted to be when I grew up was my mother.
Patricia Marie O'Brien (nee Hopkins) was a beautiful person inside and out. She was a loving, wise and compassionate woman, with an excellent sense of style. Many of my memories of Mum are about her style. I remember certain outfits she wore so clearly.
Mum and Dad frequently went to balls and watching her get dressed was an experience; she seemed to be the princesses in my story books brought to life. This was the 1950s and the fashion was for very full skirts with a starched calico petticoat underneath. The petticoat was soaked in cold water starch and was so stiff Mum had to climb onto the bed and step into the petticoat. As she walked, it made a whispering music all its own. The picture was completed by a handsome prince in a dinner suit on her arm, my Dad.
Mum was the kind of person who managed to clean the oven, or the floor, and still look fresh as a daisy. Many of her memorable outfits in the early years were homemade. Her example taught me, clothes don't need to be expensive for you to look stylish. They need to fit, be clean, well pressed, with no hanging threads or missing buttons. Shoes must never be down at the heels and must be well polished, a sentiment endorsed by Dad. She always hung her clothes on padded coat hangers and put shoe trees into her shoes. She even had the odd Mommy Dearest moment, saying she couldn't understand how I could possibly hang my clothes on "those horrible wire things".
Ad. Article continues below.
But don't get the idea Mum was a show pony; it is her intelligent and loving heart which people remember. She was a great friend and kept her friends for many years. A condolence letter we received was from a Josephite nun who taught her in high school. She wasn't my best friend; as close as she was to her children, she knew the role she filled best was unique, she was our mother. She knew we would find our friends elsewhere. Mum possessed a rare talent for commonsense.
As a kid her uncle was the Sergeant of Police in a large rural centre. Learning that lost kids were given ice cream or lollies, she regularly reported to the police station to declare herself lost. This was the same girl who stated her intention to join the Salvation Army, (the bonnet and tambourine were real winners in her opinion) or live with the hobos under the bridge.
Mum was very strong and resilient. It is a special woman who can put her baby daughter into leg braces each night over the begging cries of "don't hurt me Mummy". Thanks Mum for ignoring your baby dramaqueen; my legs are still straight and strong. My younger sister also required a mother's medical ministrations and with calm detachment, Mum did what she had to do, then became "cuddle Mum" to soothe the tears.
Mum was a born organiser and many organisations were the richer for her involvement. She wasn't a talker, she was a doer. She was the one on the committee elected Secretary, Treasurer or President. When Dad took up wood chopping as a sport, she became Secretary of the Axemen's Association. It fascinated journalists that such a feminine woman was involved in such a masculine sport.
Ad. Article continues below.
It didn't matter if it was organising a Debutantes Ball (and training them for presentation), organising a fete, baking for cake stalls, raising money for charity, running the work social club or doing tuck shop duty, Mum was the first to volunteer. No, I didn't make a mistake when I said "work social club"; from the time my sister started school, Mum did all the above AND went to work.
As I have written before, we were not the richest kids on the block, but my mother ensured we never knew that; she made and remade clothes and her artistic sense meant that Christmas, Easter and Birthdays were celebrated in style. There wasn't much Mum couldn't achieve with crepe paper. When there was a fancy dress parade at school, out came her trusty scissors and Abracadabra, Cinderella went to the Ball. I remember my brother and sister winning first prize one year dressed as a very pretty Bride and an elegant, tail wearing Groom. I was Little Bo Peep, quite a miffed Bo Peep because I didn't win a prize.
The same artistic ability was exhibited in making a modest two bedroom house into a home; paint was applied, floors scrubbed back and repolished. Long before fashion decreed that polished concrete was "in", our front stairs and patio shone like diamonds, achieved by applying floor polish on hands and knees, then buffing to perfection using the double brushed polisher.
We lived in an area with a number of migrants – German, Hungarian, Italian and Maltese. Mum established a rapport with the women of these families and frequently was asked for her advice. Somehow, an adjective was added to Mum's name, where it came from I don't know, but she was reverently and respectfully addressed as "Mrs bloody Pat".
Ad. Article continues below.
A delightful benefit of Mum's friendship was that at home we ate pasta made with various sauces, or goulash instead of stew and learned that bread was not necessarily white. Again, through the 1950s and early 1960s, serving such meals was considered a bit strange; I honestly believe some of my parent's friends ate "foreign" food for the first time in our home. Mind you, she also cooked a mean curried rabbit stew for Dad.
Recently I remarked to my brother that I don't look as much like Mum as I did a few years ago; he gently reminded me that I am now 10 years older than Mum was when she died, so we really don't know how she might look. Something I do know, when I grow up I still want to be my mother.
Happy Mother's Day, mother of 3, grandmother of 3 (a second granddaughter was born almost a year to the day after you died) and great grandmother of 2. The values and lessons we learned from you and Dad stay with us; you are dearly loved and remembered.
"Her children rise up and call her blessed" – Proverbs 31.28
Do you have a beautiful story of your mum? Was she your idol when you were growing up? What was she like? Tell us today.