The joys of an early breakfast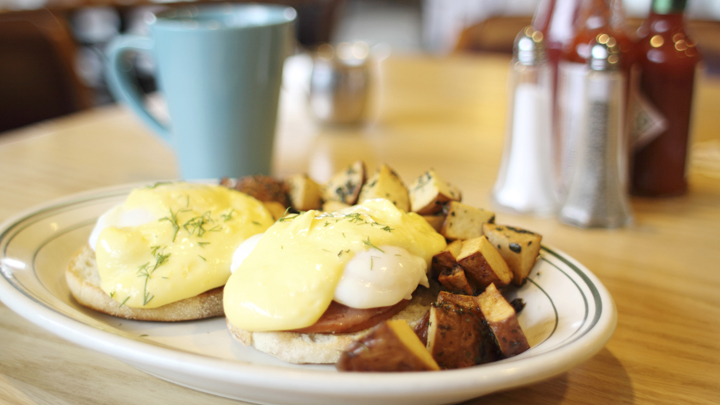 I recently had an early breakfast with a cousin and her daughter (my second cousin). I picked them up at 7.30 (sparrow fart for me) and we set off for a beaut complex set in a large part of one of our many wetlands. They have a convention, wedding, party area, and a great cafe. The entire complex is up on stilts and the cafe area has a great big deck wrapped around it on two sides, one part is enclosed but the rest is open to the elements. I had booked an outside table overlooking the water; it was only about 16 degrees when we arrived and the morning was quite brisk. We ordered a coffee while we perused the menu and started to look around. We were less than a metre from the water; greenery all around. Much to our excitement, a tall heron silently made its way past us, hardly making a ripple in the mirror-like lake. He was hardly out of our sight and a black swan came into view again, silent as it swam past. Following three little brown ducks, dived under the water, all we could see was four little bums up in the air, then they popped up again like corks, little legs moving like mad to catch up to the swan. We reckon they got the leftovers she stirred up while having her breakfast.
We ordered half a roll, toasted with spinach, smoked salmon and two of the best poached eggs I have ever eaten on top. Yum! No dishes to wash, what a bonus! There was silence for a short while.
After we ate, we started to look further and discovered pelicans, more swans and ducks scattered in groups all over the lake. On a big log, in the centre, a big pelican stood sunning himself, his wings open catching the first rays of sun gradually peeking from the morning clouds. Suddenly the serenity was broken by two big black swans, they came in from the left honking and looking terrifyingly large and aggressive. The family of swans sitting on the lake must have felt the same, after a couple of threatening moves from our intruders they took off (elegantly I must say) and flew down the river past us and disappeared into the safety of the reeds in that area. The big swans landed in the middle of the lake, heads up in the air looking quite satisfied, we laughed, and decided that even in nature there is always a bully or two who just can't help themselves. Peace was restored, and the early morning sun peeking from the clouds made the entire lake look like an elegant mirror, broken only by a ripple or two. A heron, fast as lightning, stabbed his big needle-like beak into the water, happily fishing for breakfast.
Ad. Article continues below.
We ordered an extra coffee each so we could enjoy the most magnificent morning we had spent in ages. The cafe had been filling as we ate and enjoyed nature – inside was quite full, the covered part of the deck that had been set out beautifully was full; apparently a convention in the city had decided to start their day, like us, in the great outdoors.
There was a table over from us with four young Army men, one had a Kelpie (very young and enthusiastic) who disappeared into the reeds not far from us and, laughing, we wondered if it might appear with a swan or a little duck in his mouth. It didn't happen thank goodness, could you imagine the mayhem that would have ensured? We giggled for ages about our sense of humour, or lack of it, and how even now, we could still have a laugh at something so stupid, like we did when we were young.
We could have spent the entire day there, watching and looking at the ensuring dramas being played out around us, three wonderful hours had passed, and the three of us agreed it was definitely the best start of day we had for ages.
Have you been to breakfast with friends lately? Where did you go? Tell us below.