The hydrotherapy pool: we're all in it together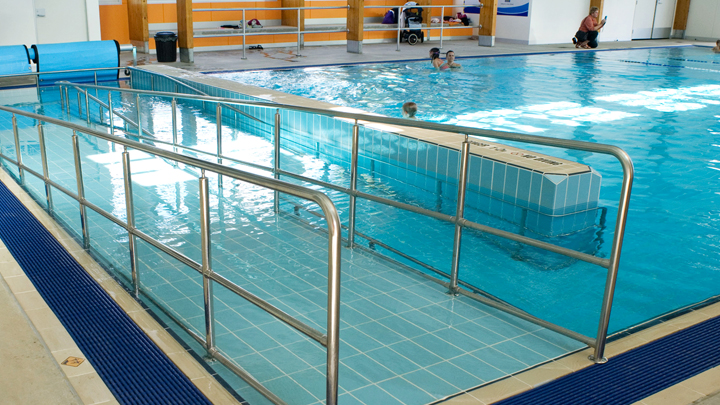 I have had pins and needles in my right arm for as long as I can remember; I haven't been able to sign my name properly for years and the doctor told me surgery for carpal tunnel was my only option to fix it. I wasn't prepared to have any more surgery so I chose to put up with it, but it has been getting worse over the years – my fault and my decision not to agree to surgery. So like my mother, I just ignored it as much as I could and got on with my life.
Since I have been helping my son at the hydrotherapy pool 3 times a week, I decided to get myself some swimmers and work my knees a bit and try to do something about my "bingo wings" arm fat. It is so wrong and so unfair – I hate it – I don't know why I have it but to my absolute delight the exercises for my arms are not only taking away the pins and needles, it is also tightening my upper arms! I am so very happy about that because I have been able to cut down on the anti-inflammatories by 75 per cent and I look forward to the day I can wave goodbye and not be worried about my bingo wings continuing to wave for 5 minutes after I have put my arm down!
I recommend the hydrotherapy pool to anybody that will listen – doctors are way too quick to write a script when sometimes the simple things help the most. It is a great and pleasant way to help yourself, it's pain-free, it's fun and the results are quick. I can see how much working out and swimming is helping my son and he is very quick to agree. The one we go to has a fantastic friendly atmosphere: the staff bend over backwards to help you, the facilities are terrific and the kiosk ladies not only prepare delicious food, a smile and a laugh always goes along with it.
Ad. Article continues below.
It is a very inspiring place: you see many different people with many different problems. I know the two ladies with M.S. are always up for a laugh. I must admit the men's water classes for arthritis can be quite funny at times – they tend to whip the water up pretty good. Last week I was watching what I thought was an armless man swimming laps, I thought "wow". I quietly asked someone, no, he wasn't armless, he was 86 with bad arthritis in both arms and he doesn't let it stop him.
The other day while we were sitting at the kiosk having lunch, I was relaxing and taking in the view of the outside pool when I saw something that took me back to my childhood: there on the side of the pool stood an artificial leg. It was wearing a blue jogger, just standing there waiting patiently for its owner to finish their swim session, just like Pop's wooden leg used to stand guard at his bedroom door, wearing its shoe waiting for him to wake up.
Do you go to the pool? Would you consider it? What is your favourite type of exercise? Tell us below.