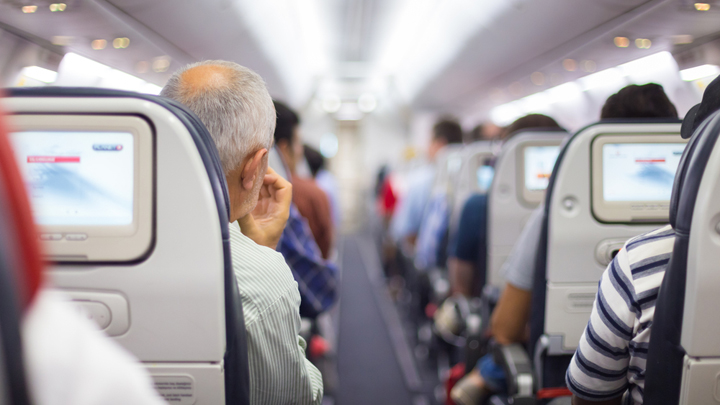 Flying in a machine high above the ground is an unnatural thing to do, but I love it. I enjoy anticipating my next flight somewhere — sadly, at the moment, I have nothing on the radar.
Just recently a daughter and I had a few days in Hobart. It was most enjoyable particularly because we were lucky with the weather. Admittedly there were clumps of snow on Mount Wellington but we Queenslanders didn't hang about long. What surprised me was that Hobart's so little (twice Toowoomba) and so surrounded by water. I'll be back to see more of our little island state one day.
The flights between Brisbane and Hobart were a real pleasure. Smooth as can be, the ground passing beneath us so far below that we could be anywhere. But land we did and at the right places.
There were a couple of babies on board, not too troublesome, and a number of people had coughs. Uh-oh. You just know you're swallowing all those bugs; you just can't get away when you're at a high altitude. You know what they say about the air circulating in that flying machine.
I decided to look it up and I found 'The Truth About Cabin Air'. The opening lines told me this was what I was looking for:
Ad. Article continues below.
Filthy, germ-laden, rotten, disgusting, wretched, skanky, rancid, putrid, fetid, and fart-filled are just a few of the adjectives used to describe cabin air, and legion are the accounts of flyers allegedly made ill by microscopic pathogens circulating throughout a plane.
I learnt that on all modern aircraft, passengers and crew breathe the same air, a mixture of fresh and recirculated air, and that air is very clean. It's good to know that in fact there's a total changeover of air every two or three minutes — 'far more frequently than occurs in offices, movie theaters, or classrooms.
'Studies have shown that a crowded airplane is no more germ-laden than other enclosed spaces — and usually less.' Boeing says that between 94 and 99.9 per cent of airborne microbes are captured.
The pilot writer adds: 'Usually, though, it's not what passengers are breathing that makes them sick, but what they are touching — lavatory door handles, contaminated trays and armrests, etc. A little hand sanitizer is probably a better safeguard than the masks I occasionally see passengers wearing.'
A new fact for me was learning that the entire vessel is pressurised equally from front to back — cabin, cockpit, and lower-deck cargo holds. For some reason I thought our luggage travelled in much less attractive circumstances!
Have you ever given much thought to your health and wellbeing while travelling? Are you concerned when those travelling near you are unwell?