Sixty Something: The cruise that changed my whole perspective on life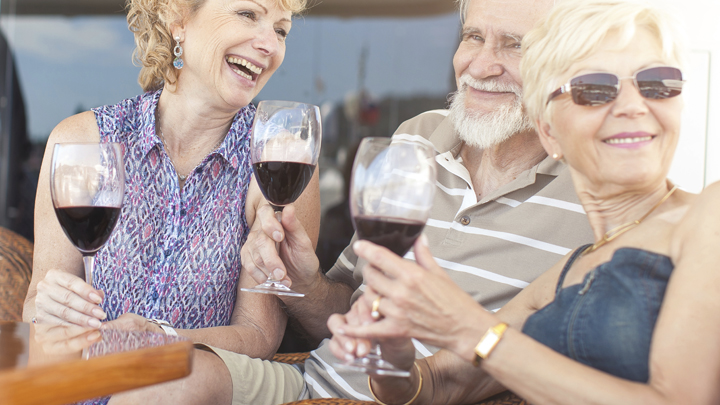 Hello 60-somethings. As you know from my previous ramblings, my ex was not a very nice man. However, I have come to the point where I just feel sorry for him now. Karma has worked its magic and for once, after all this time, I am in the driver's seat (for want of a better way to describe it). My ex has started to call every now and then. He asks how I am doing, he tells me his woes and wants to meet me for coffee. "Why?" I asked him. He says he just wants to talk and try to be friends, but then goes on to tell me how bad his life is and his finances and his partner. 
By this time, I am feeling just a tad powerful. I remember what he put me through, I remember how I lost everything and I remember the hundreds of text messages I endured from his "partner". Of course I could have changed my number you say, but I am stubborn. That was and is the only mobile number I have ever had, so I chose not to let her pressure me into having it changed. I weathered the calls and the text messages. I remember how she made pig noises inside the court room when we settling the divorce and how he did nothing to stop her. So when I recently realised I perhaps had the upper hand for a change, I wanted just a tiny bit of revenge. You see, I am not that good of a person that I don't believe in getting my own back in some circumstances.
When my ex asked for the rest of his things after he left, I agreed to some. I just didn't bother to tell him that when he unfolded his clothes from the suitcase I had packed, that trousers were only one legged and shirts one sleeved, oh and there were no crotches in anything. I would have liked to have seen his face. Hey, I wasn't 60 at the time and still a little "immature". 
Ad. Article continues below.
Anyway, I am all grown up now at 62, so I couldn't do those things anymore. Instead, I let him chat about his miserable life for a while. Then I went on to tell him about mine, reminding him of how he left me with nothing, but you can't keep a good 60-something woman down. I described, in detail, the wonderful cruise our sons had given me for my 60th birthday. I told him of the warm waters, beautiful islands and magnificent ship. Of the lifelong friendships I had made. I told him how I had gone on to study and obtained a university degree – not bad for the "dumbass" he had called me often. I told him of the new friends I had made since moving and how my life had taken a turn for the better. I could hear his intake of breath over the phone and knew I was getting to him. As I said, I am not that good of a person, so revenge was a little sweet. Needless to say, I won't be having that coffee with him – he can't afford me!
Upon turning 60, I was still in the same horrible job that I'd been in for eight years, but I had no home and no husband and my kids were grown up and gone. The cruise was a wonderful way to stop and take stock of my life. I was excited, but true to form of something going wrong every time I got out of bed in the morning, the friend I was going with backed out at the last minute. She was too scared to sail. We were however travelling with another couple I had known for years, so as the cruise line doesn't put a stranger in the same cabin, I ended up with a room to myself. I have never been so excited about anything in my life. I didn't know whether to laugh or cry as we boarded in Sydney. It was the actual day of my birthday. The sign at the bottom of the gangplank (do you like that I use sailing jargon?) said, "Leave your stress here". The ship's mate probably has encountered some idiots in his time, but it didn't stop me from asking him to hold out his hand. Gingerly he put it in front of him and I pretended to place something in it. He looked quizzically at me and 'overly excited and idiotic me' said, "Just leaving my stress with you. I'll pick it on the way back". Of course he laughed, what else was he going to do…poor man!
Ad. Article continues below.
The boat was wonderful, the crew were wonderful and leaving the harbour was, you guessed it, wonderful! That night my travelling buddies informed the cruise director that it was my birthday. To cut a long story short, he ordered a magnum of champers for me, pulled me on stage, to which my skin reacted by glowing a brilliant red and 2000 passengers sang happy birthday to me. Where else would that happen, I ask you? For 10 days I celebrated and a whole P&O cruise ship celebrated with me. Did I have a good time? It was wonderful!
When I arrived home in Tassie, my outlook had changed. I couldn't thank my sons enough for this cruise as it was like my life was beginning again. This 60-something downtrodden woman was on her way up!
Tomorrow was another day.
Have you had a great time on a cruise? What happened? Tell us below.