The busker in High Street: tip to hear pain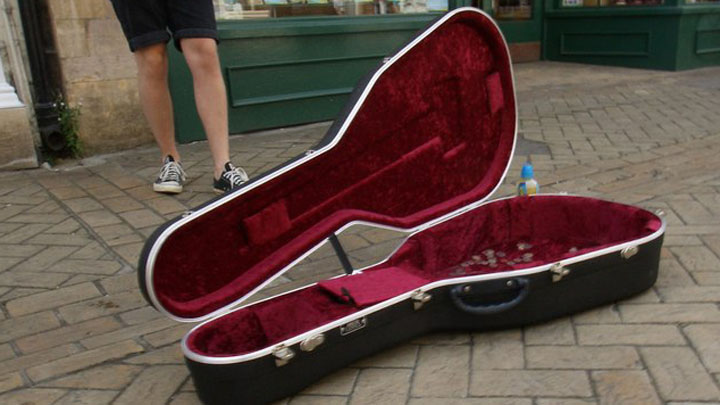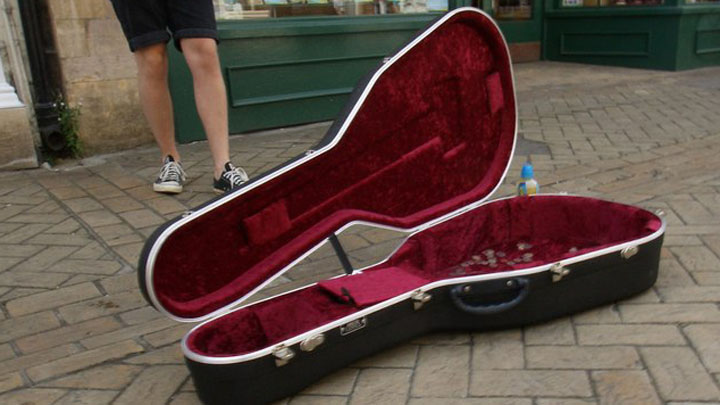 Ad. Article continues below.
The Apparition: she was standing in the High Street. I'd guess that she was late 50s/early 60s. Short hair that obviously had, at various times, been assaulted, bobbed, coloured, crimped, curled, dyed, straightened, threatened and tortured within an inch of its life. A bit overweight, roly-poly – she looked vaguely like an overripe pear. She was dressed in standard issue trackie dacks with white stripes, singlet and joggers. You could see a few tatts around her clavicle and ample bosom, and a large piece of 'bling' on a black cord around her neck. She was wearing a somewhat formless coat of pilled felt, but you just 'knew' that her arms were festooned with tatts also. She was heavily made-up with kohl and darkish green eye shadow, purple lipstick and blue finger nails. It might be argued that her 'use by' date had come and gone. Nonetheless she was a bona fide busker.
To give her a name: let's call her Karaoke Katy, for 'KK' had what appeared to be a karaoke machine, set on a trolley for convenience. The device played a musical accompaniment (consisting mainly of pre-recorded basic guitars, keyboards and synthetic drum patterns) to which someone sings the words of popular songs. The lyrics are simultaneously flashed on a screen monitor, highlighted by a 'bouncing ball' or some other indicator to let you know your place in the song. KK certainly had a powerful voice and she scarcely required the microphone and amplifier that completed the setup. The sound carried quite a distance in the high street and a cursory glance at her 'hat' indicated that quite a few people had divested themselves of their change. I'm uncertain if KK had at one stage been a professional singer, or was just an enthusiastic amateur. One of those who are often encouraged by their friends to try their luck on 'The Voice' or 'The X Factor'. The only thing we can be sure of was that KK employed plenty of 'Max Factor'!
KK also accompanied herself on a small tambourine and I was reminded of a glorious 'one-hit-wonder' from the 60s: Green Tambourine by a long forgotten group called The Lemon Pipers. It remains one of my favourite tunes from the psychedelic era, not to mention Mr Tambourine Man by Bob Dylan. Ironically, those songs were also about busking. Anyway, I was sitting on a bench waiting for my partner who was away engaged in some serious retail therapy. Coffee in hand, I had just returned from a consultation with my ophthalmic surgeon who pronounced that my somewhat fragile eyes were in remarkable condition and that I need not see him for another year. Therefore, my mood was cheerful; full of good spirits – the liquid spirits would have to wait for the time being though! So there I was sitting on one of the aluminium benches that dot that area, drinking takeaway coffee from one of those high tech coffee machines; listening to Karaoke Katy 'murder' just every popular song that I loved from the 60s and 70s.
Basically the problem was this: KK knew all the words, pauses and the occasional big finishes, but…she was singing just a little flat of the note most of the time! Now I've been a percussionist and vocalist for some fifty years and whilst I don't have perfect pitch (indeed, researchers estimate that perfect pitch occurs at a ratio of only 1 in 10,000 people), my relative pitch is reasonably acute. Sadly, she did not have a great deal of 'light and shade' or a particularly wide range. Thus, after she had rendered about 25 to 30 songs that I knew and loved in the space of an hour or so, I was about ready to rip her throat out! I know how churlish that sounds to say such things about a fellow performer, but it's possibly a reminder that at some stage it would be prudent to accept the inevitable effects of ageing and retire gracefully.
Of course, I can't overlook the fact that she may have been down on her luck and this was a way of supplementing her income. The temptation would be to leave a generous tip on the proviso that she stop and move on or go home. It reminds me of a story that Rod (a dear friend and musical colleague) told me, that many years ago he was busking with some friends one night in King's Cross, on a street corner where the spruikers were attempting to lure the hapless punters into the strip clubs. A shortish muscular man approached Rod and friends with a fat bundle of dirty banknotes in his hand, and told them in no uncertain tones: "Okay, you've been paid. Move somewhere else or we'll (he and his associates) move you. F*** off!". Needless to say they took heed of the bruiser's kindly advice and retired for the evening!
I'm a bit uncomfortable with the appearance of this apparition in the high street. Because, putting her musical ability to one side, I could hear KK's pain just below the surface, or imagined I did at any rate. It's a sombre reminder that my own pain hovers in the background whenever I get the chance to perform nowadays. Knowing when to quit is a difficult notion to comprehend. As Kenny Rogers once sang in the song, The Gambler:
You've got to know when to hold 'em, know when to fold 'em
Know when to walk away, know when to run.
How do you know, is what I'd like to know! When is it time to relinquish, rest on your laurels and just have a glance at your scrapbook once in a while? Of course there are acts that still continue to tour such as The Rolling Stones, Paul McCartney, Sting, Leonard Cohen and many others – surely it isn't for the money? Probably…it is! All performance is a gamble of sorts and any money made (like ill-gotten gains), I can tell you, is the sweetest of all. I just don't want to be a spectre of my former self like Karaoke Katy in the high street; the apparition: tip to hear pain.