The Blue Arsed Fly: Getting out of the van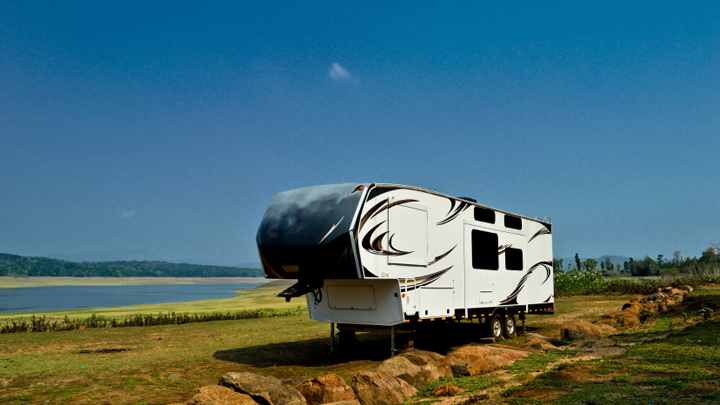 The Blue Arsed Fly is a wonderful grey nomad travel series by Bruce Hathaway and his wheelchair-bound wife, Elaine. If you'd like to read his previous blog, you can find it here
So we decided when we got the van back we'd go for a small trip to see if the van is better for Mother, I was thinking Phillip Island for a few days to see if everything is hunky dorrey. Now, the missus being a democratic person thought about Phillip Island and made up MY MIND and we're going to Bright to see the autumn colours, so much for PI. So we get the van and fill it up, she takes her usual million or so items that she must have in the van and off we go.
Now I make an executive decision (yes all by myself) that we get up at 6 and leave by 7 o'clock. It would be the ideal time to flee the city so Mother thinks that's a good idea and gets up at 5 and we leave at 6. Still no problems or catastrophes and 5 hours later we're moored alongside in Bright at the Big4 CP, $43 pn w/o discount but if you have a big rig check before you get here, our 21 ½ ft van just fits on the slab site, amenities seem OK and only 2 mins from the town centre.
So we berth alongside and I put the power on and nothing happens, that's OK – it's just this new fangled gizmo they put in the vans now and it's like a circuit breaker, I push the button and still no juice. Go and look in the boot to check the battery charger and other bloody electronics, all seems OK, go back inside, push the gizmos button a few more times and get bloody nothing. Then the brain clicks into gear, the van also has a circuit breaker, and when I check that it's of course off, switch it on and push the gizmo's button and hey presto we have electricity to the van. Why they bloody well have to have this gizmo and a circuit breaker beats me, if you know why let me know as well.
Ad. Article continues below.
By this time Mother needs to go to the loo so I get the electric lift ready to use and when I go to lower the damn thing nothing happens, all I here is clicks from the motor. I think maybe if I connect the car to the van and use the car battery it might work but me old friend and nemesis that bitch called FATE tells me to get stuffed as the lift won't work. Saying a few well known old English verbs under my breath I tell Mother what the problem is, by now she really needs to go so I get her out of the car and with the help of a friendly neighbour we get Mother in the van and you could hear the sigh of relief all over Bright. Now getting Mother into the van was all right but the problem will be getting her out of the van as she has to do it backwards and to step down is a real problem, so stay tuned.
In the meantime I go to the office and see if they have an auto electrician in Bright, they have one so I ring him up but it's Saturday and he's not answering my distress flare, I'll try again on Monday. If he can't help and Mother can't get out of the van it might be a bumpy ride home for her – only kidding – we'll manage somehow.
Tell us your thoughts below.