Should the military allow more women to serve in combat roles?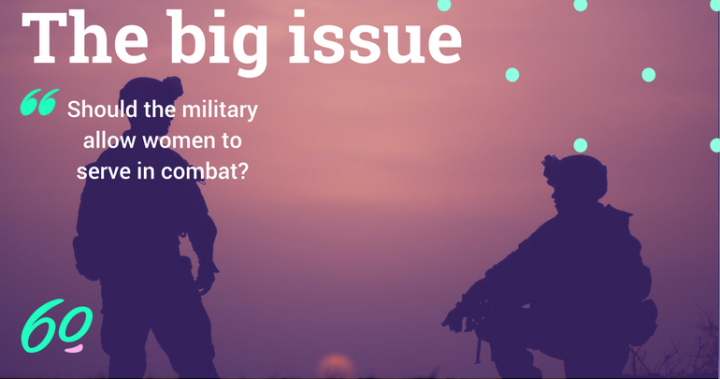 Women have long played a part in military history, from working as nurses or land girls in the past to now serving as snipers, reconnaissance and even on the frontline.
Australia is admittedly leaps and bounds ahead of other nations in terms of including women in the military, in 2011 passing a law that allowed women to serve in combat roles as of 2016 – something both the UK and the US only recently allowed.
According to the Daily Telegraph, the Australian Army is targeting a military that comprises 15 per cent women by 2023 (currently, women make up 12.7 per cent of the Australian military). 
Responding to claims that the military recruiters had been instructed to accept female applicants over males for certain roles in order to meet this target, the Defence Department insisted that every candidate must meet the "required standards".
"Successful candidates are selected based on merit and their capacity to do the work, not on their gender," the spokesperson told the Daily Telegraph in August.
Ad. Article continues below.
Despite the denial, many Australians were angry at the prospect women would be selected for the military through 'affirmative action'. This brought up many of common arguments about women serving in combat roles.
---
Starts at 60 is tackling one big, social issue each day, providing a place for readers to debate and discuss the topics that matter to us all. Tell us what you think, share your knowledge, and debate your point!
---
Senator Cory Bernardi warned that "politically correct and gender ideology" could "compromise the effectiveness of our front line combat capability," according to the Daily Telegraph.
Ad. Article continues below.
He appeared to be referring to the long-held belief by people who oppose women on the frontlines that a woman's physical capabilities will always impact her effectiveness in battle situations.
Some people even argue that the inclusion of women in the frontlines will result in more sexual harassment cases, because of the close proximity they'll be forced to exist in with male soldiers.
The military is quick to point out that women accepted on the frontlines need to meet the same physical requirements as their male counterparts.
Lieutenant General Angus Campbell, who commands the Australian Army, says it's all about numbers – if he can only draw his troops from half of the population, he may be missing out on smart soldiers.
"To me it's all about talent," Campbell told The Strategist, the  Australian Strategic Policy Institute's magazine, in March this year. 'I don't have enough of it and I want more. I am not drawing on the full potential of the population. I can't possibly imagine, therefore, that the army is as smart as it could be and as it needs to be."
Ad. Article continues below.
He noted that it was difficult in some battlefields, such as Afghanistan, for male soldiers to talk to and win the trust of locals, because they were unable to speak to Afghanistani women in the way another woman would be permitted to.
The same story pointed out that women were already flying helicopters, driving armoured vehicles, and working as medics on the frontlines in Afghanistan and Iraq, as well as crewing Australian frigates at sea. Women will soon also pilot the RAAF's fast jets. Those women would surely be bemused at the suggestion that they aren't already in combat situations, the story concluded.
Tell us what you think. Do you think that having a quota for women in the military would open up more opportunities or limit opportunities? Would you like to see more women fighting in combat roles? Or will they compromise Australia's military effectiveness?