Should the military accept transgender recruits?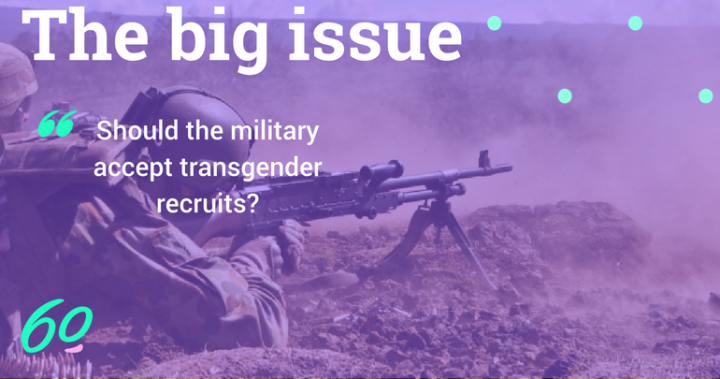 It's been a hotly debated question for years, and as US President Donald Trump moves to ban transgender people from serving in the military, it's divided people around the world once again.
Australia, among other countries, doesn't ban transgender recruits, and it doesn't record the number of transgender personnel it has serving in the army, navy or airforce.
"The ADF remains committed to its current policies supporting a diverse, inclusive and highly capable workforce," a spokesperson for the Department of Defence told ABC's Hack recently.
But Trump doesn't agree, and came under fire in July when he declared on Twitter that the US government "will not accept or allow Transgender individuals to serve in any capacity in the U.S. Military".
He claimed at the time that the military needed to focus on "decisive and overwhelming victory" without being "burdened with the tremendous medical costs and disruption".
Ad. Article continues below.
Read more: Military's $1M bill for sex-change ops revealed
But according to recent US reports, the Pentagon is now preparing to welcome transgender recruits by January, appearing to signal Trump's proposed ban will be overridden. Two judges have already blocked it.
A poll published by isidewith.com that asked "should transgender people be allowed to serve in the U.S. Military?" found that 68 per cent were in favour of the concept, while 32 per cent voted against it.
Of those in favour, 15 per cent voted yes "as long as they can pass standard military physical and mental testing".
---
Ad. Article continues below.
We'll be addressing one big social issue each day. This is an open space for discussion and debate about the things that matter to all of us. How do you feel? What do you think? 
---
It comes after The Australian revealed that some Australian defence money has been spent on sex-change surgeries.
Its report said that between November 2012 until March this year more than $1 million was used to pay for the surgeries and treatment of personnel experiencing gender dysphoria. Twenty-seven ADF members received treatment in that period, with 17 undergoing sex-change surgery, 10 of those being male-to-female reassignment, at a cost of $1,052,330 (not including pharmaceuticals) to the ­Defence Force.
Read more: Americans gobsmacked as Trump changes military law
Ad. Article continues below.
Advice given to The Australian about the information it obtained from documents released under a Freedom of Information request revealed that those who'd undergone the procedure would be non-deployable for some time.
"Any ADF candidate with gender dysphoria is assessed by Defence Force ­Recruiting on an individual basis, against the ­inherent requirements of service and in accordance with the ­Defence Health manual," the advice said.
A navy document relating to transgender issues talked about the use of toilets and bathrooms, and said those undergoing gender transitioning would not be posted to ships, and could use separate facilities such as the disabled toilets.  
"However, it will be discriminatory to insist that the transitioning person permanently use facilities for the disabled," the document read. "Should the situation arise where open communal same-sex showers are the only showers available … the transitioning person and their commander or manager should discuss and agree upon an appropriate ­arrangement."
Do you think the military is right to accept transgender recruits or fund sex-change operations? Do you think it should be a worldwide law or do you agree with Donald Trump's suggested ban?