Should criminals be allowed to vote from jail?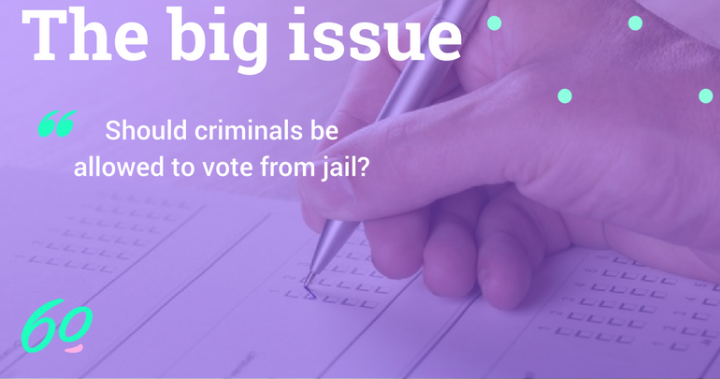 Since a dramatic change in 2011, prisoners in Australian jails have again had the right to vote – a change that overturned a Howard Government-era ban.
According to the Australian Electoral Commission, if you're serving a full-time sentence of less than three years, you remain eligible to vote in federal elections.
"If your sentence is three years or longer, you can remain on the roll but you are not entitled to vote until you are released from prison," the commission says.  State voting rules, meanwhile, differ from state to state
But the ABC recently published results of an FOI request, claiming many prisoners who had the right to vote in federal elections were prevented from doing so.
According to the news site, "potentially thousands" weren't given the chance to vote in 2010, 2013 and 2016 "due to a failure to enrol them and register their ballots".
Ad. Article continues below.
Former prisoner John Killick, famous for escaping Siverwater via a hijacked helicopter, told the website: "It's not a simple process for people in jail, and people don't go out of their way to get the prisoner and explain to them what they have to do."
---
Starts at 60 is tackling one big social issue each day, providing a place for readers to debate and discuss the topics that matter to us all. Tell us what you think, share your knowledge, and debate your point!
---
How much sympathy Killick and his former roomies receive from the public over the alleged denial of their voting rights, however, isn't clear.
Ad. Article continues below.
According to a poll carried out by website isidewith.com, 65 per cent of people who took part in a survey asking 'should convicted criminals have the right to vote?' said "yes" – while 35 per cent voted "no".
However, out of those who said yes, 10 per cent specified it would need to be after the prisoners had completed their sentence or parole/probation, while four per cent said those convicted of murder or violent crimes should not be included in the voter rolls, even after they were released.
As a result, it's not totally clear how many people support the blanket right to vote while actually in jail, as long as one's sentence is short.
In 2011, the High Court struck down the Howard Government's 2006 changes to the Commonwealth Electoral Act – changes that had prevented all prisoners from voting.
Liberal politicians were furious with the court's decision, with Senator Mitch Fifield saying it sent a poor message to the electorate.
Ad. Article continues below.
"The reason we build prisons and lock people up in them is because we believe that if you refuse to live by the laws of our community then you lose your right to participate in our community," the senator said.
But Philip Lynch, a solicitor from the Human Rights Law Resource Centre, who acted for a prisoner challenging the ban, said it was "a victory for representative democracy, accountable government, the rule of law and fundamental human rights.".
Who do you agree with – Lynch or Fifield? Do you think people should be allowed to vote while still in jail? Should convicted criminals be able to vote once they've served their sentence?