Is the close family unit broken forever?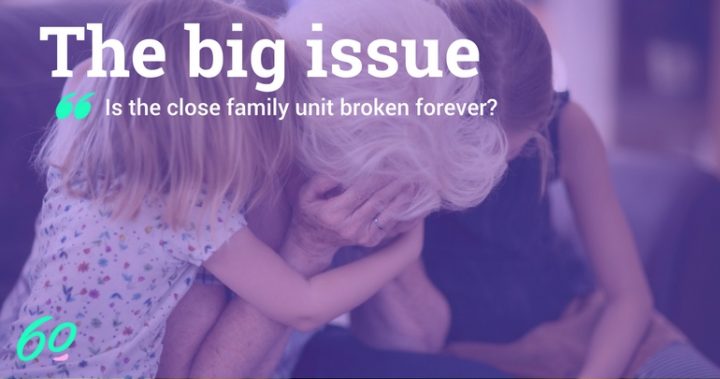 There was a time when many of us lived with three or more generations of our family under one roof.
We cared for our children, and our elderly, together, sharing the burdens, as well as as all the love that a big family brings.
But that's largely no more, as families have separated into small living units, with less time for each other.
Australia's Aged Care Minister Ken Wyatt said this week that he'd been told that as many as 40 per cent of people living in nursing homes received no visitors – not a single one, ever. 
"Our love should not be conditional on a point in age, or because we drift away from those who once gave of themselves to care for us," he said. "We must all ask ourselves: Do I want to be abandoned in my later years? Is this what my elders deserve? Is this how I want to live out my days?"
Ad. Article continues below.
There could be many reasons an older person could be estranged from their family – for every anguished grandparent who feels cut off from their grandchildren's lives, there's often an embittered adult child who says problems in their own upbringing are why they no longer contact their parents. 
Both men and women now commonly work full-time jobs, and children often have multiple after-school activities – both of which mean less time for visiting.
And with separation and divorce easier than ever – gone are the days when a marriage break-up was a matter of shame, so much so that about one third of unions currently end in divorce – family breakdown is common.
Meanwhile, there are now facilities where we can place family members whose care requirements become more than we can handle, whereas in the past families didn't always have that choice.
All of these things likely combined to create the situation we face today – children without grandparents, fragmented families, and lonely people in nursing homes – and it's not clear whether we can return to the days when we cared for our family members young and old, or even that many people want  to.
Can we fix this situation caused by the loss of our close family ties? Or are our families heading in a direction that we can't turn back? How do you maintain your family's closeness? Have you suffered in a family breakdown situation? Share your experiences.