How soon is too soon to move on when a partner dies?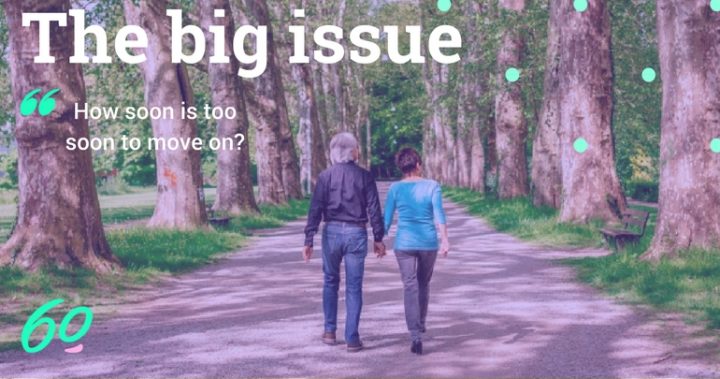 If you've ever lost a partner, you'll know how difficult it can be to move on when they pass away.
For some, the idea of facing the world alone is too difficult to handle, so they throw themselves back into the dating game as quickly as possible.
Others like the idea of getting to know someone new, but often hold themselves back at fears of what their friends and family will think.
Read more: Are you ready to start dating again? Here's what's next for you
Then there are those of us who grieve for a while, then unexpectedly meet someone who sweeps us off our feet.
Ad. Article continues below.
It's often a taboo topic, but one that probably crosses our minds more often than we wish to discuss.
Today at Starts at 60 we're asking how soon is too soon to move on when a partner dies.
The harsh reality of being a person over 60 means we're more likely to lose our partner somewhat sooner than someone in, say, their 20s. 
Sometimes it happens sooner than we expected and we're left wondering how the rest of our lives are going to play out. It's usually really difficult to fathom facing the world without the person we've relied on for so long to be there.
---
Ad. Article continues below.
Starts at 60 is tacking one big, social issue each day, providing a place for readers to debate and discuss the topics that matter to us all. Tell us what you think, share your knowledge, and debate your point!
---
For others, losing a partner can often be a long process. Terminal illnesses can mean that we've had longer to prepare for a life without the person we love, but it's been a heartbreaking period of watching them slowly decline in health.
It doesn't make it any easier, but it does make the idea of meeting someone else more realistic. Some people even discuss their plans or get their partner's blessing before they pass away.
What makes 'how soon is too soon?' difficult question to answer is the fact that in many cases, people have been married for decades and there's a sense you're disrespecting the memory of your loved one if you go on to share a relationship with someone else.
Ad. Article continues below.
Read more: Falling in love again after my husband's death
To go from spending every day with a husband or a wife or partner, to doing those same activities with a completely new person, can be difficult for family, friends, and even ourselves to accept.
Another difficult aspect of the decision comes down to what people are looking for when they do decide to move on. Some people simply miss the idea of being married. They miss having someone to catch a movie with or to share a meal with. They mourn all the little day-to-day things that made their marriage special in the first place.
Others are looking for something more physical and want someone who can spice up their love life in their later year, perhaps to fulfil some dreams that they didn't have the chance to address in their previous relationship.
Then there are those who don't want to replace the one they loved, so choose someone completely different for their next relationship.
Ad. Article continues below.
Read more: Rediscovering romance after a heartbreak
While there's nothing wrong with any of these options, it still leaves us asking what the right time frame is.
Is it something that is universal, or a decision that individuals need to make based on their own personal scenario? Do we leave it a month? A year? A decade? Is it something we shouldn't even consider?
How soon do you think is too soon to start dating after a partner dies? Have you seen someone move on too quickly? Or remain lonely for too long?