Has the loss of religion changed society for the worse?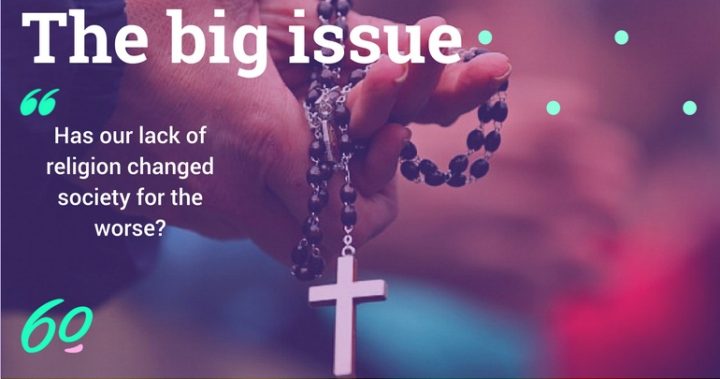 Sunday school used to be a regular weekly activity that, depending on your age, was made up of an hour or two of bible study, scripture knowledge quizzes, some singing and arts and crafts or colouring-in.
It was the same at school – although our public schools have long been largely secular, 'religious instruction' was often a regular activity, usually focused on how to be a good and 'moral' person.
As a result, for many of us, religion shaped the way we went on to live our lives, even if we weren't from particularly religious families. And everyone was subject to society's judgment when they transgressed some scriptures, making sex before marriage, abortion, extramarital affairs, and divorces a matter for gossip and shame.
People were conscious of the difference between Catholics and Protestants, and girls from religious families even shunned some of the more revealing fashions, fearful of their parents' opprobrium.
But now Sunday school only exists for the devout, and  in public schools students can usually opt out of religious education. For those that do still attend the classes, the focus has shifted from teaching one religions belief to informing students about a number of different religions, covering of their history and context in modern society.
Ad. Article continues below.
---
Starts at 60 is tackling one big issue for society every day. This is a chance to say what you think, debate the key questions that impact us all, and share your knowledge gained over many years of life. 
---
It makes sense that this progression has been made since we are becoming more multicultural each decade, and becoming less religious more generally all round.
Kids today might worry being punished for misbehaviour – but their worry is likely to be more about having privileges removed than of the Almighty's wrath. The idea of 'missing a place in heaven' would likely not occur to many. And for adults, there's certainly no shame any more in being an unmarried mother or a divorcee.
Ad. Article continues below.
Some people argue that the decline of organised religion has come at the cost of our morals, that we were a nicer society when we had an over-arching code of behaviour. They say that the loss of religion has created a me-first culture where there is little consideration for others.
Others say that religion does little but unfairly marginalise some people – see the current same-sex marriage debate for a taste of that – and cause needless conflict – see the numerous wars that have been fought over religious differences. They argue that parents can still teach children to be considerate and kind without threatening a lightning strike from above.
What do you think? Would you like to see more emphasis on religious education? Did you take away any good lessons from your Sunday school experience? Do you think religion sows more hatred than it encourages love? Are we better off in a secular society?