Do we respect final resting places enough?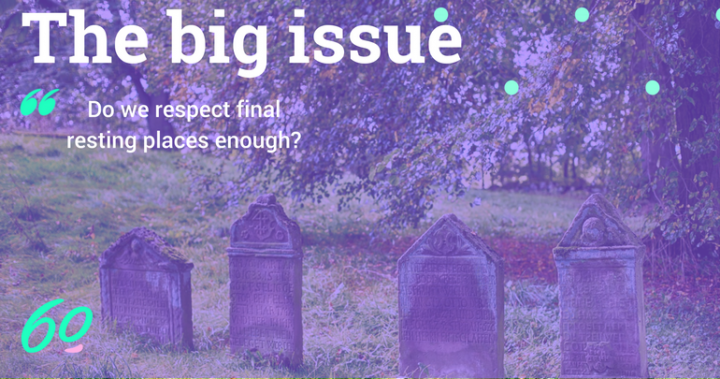 A final resting place seems like such an important decision at the time, but the sad truth of the matter is that we have no control over who will be around to visit our grave or keep our memory alive once future generations move on and move away. But one beautiful story has shown that human kindness can persevere for decades, even in the strangest of cases. 
In 2015, the BBC published an article about Ann Kear, who had noticed something odd happening at her brother's grave site when she visited each Christmas. Karl had been just 12 years old when he passed away 70 years ago, but flowers and poetry were being left at the tombstone were still being left by a mystery person.
"It's either a sprig of holly, sometimes it's been a little sheaf of corn nicely wrapped and also some words of tribute—quotations from poems," Kear said. "They're never signed, so someone wishes to remain incognito but I would love to speak to them. Remembering Karl would be wonderful—absolutely wonderful." 
Read more: Is today's society too wasteful? 
It took some time, but the BBC tracked down the mystery grave-tender and revealed it to be 84-year-old Ronald Seymour-Westborough, who had been the one to find Karl "face-down in the seas" on the boy scouts outing. Though Seymour-Westborough would have been 18 years old at the time of 12-year-old Karl's death, the two were reportedly good friends. 
Ad. Article continues below.
---
Starts at 60 is tackling one big social issue each day, providing a place for readers to debate and discuss the topics that matter to us all. Tell us what you think, share your knowledge, and debate your point!
---
Seymour-Westborough had no idea that Kear had been searching for him, "and did not even know Karl had a sister". While he confirmed he was the one leaving flowers, he didn't own up to the poetry so there may be a second person thinking of Karl seven decades after his passing. 
Read more: Have we become too money-hungry?
Once, it would have been unthinkable to visit a town where a loved one was buried and not pay at least a quick visit to their grave for a moment of quiet reflection or even a determined pulling-out of weeds around the headstone. While it's natural to feel guilty when you haven't visited in a while, it rarely changes our habits. Perhaps the importance of the action simply fades with time, or maybe it's a generational thing. More than ever before, cremation and a scattering of ashes is a highly-regarded way to farewell a loved one; while it lacks the permanence of a site or monument to visit, it in no way lessens the impact that someone has had on our lives.
How often do you visit the graves of lost loved ones? Do you think people should make a more concerted effort to do so?