At what age should we start 'ageing gracefully'?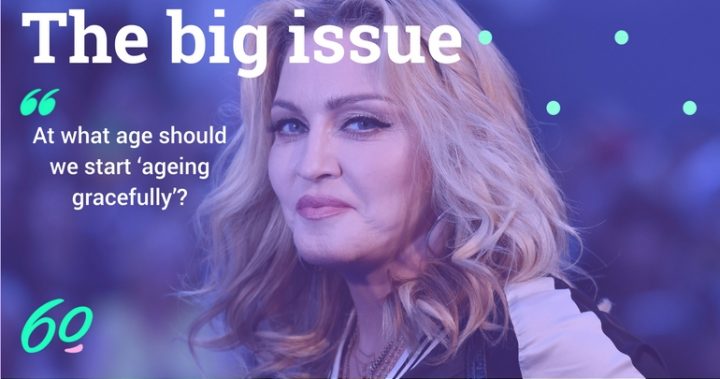 As someone over the age of 60, you've probably heard the phrase 'ageing gracefully' at some point in your life.
There seems to be this idea that once we hit a certain point in our lives, we need to let ourselves go and give up all the little things that made us feel special when we were younger.
For some, this could be a regular trip to the hair salon to get our greys covered over. For others, it could be wearing less makeup or giving up an item of clothing because it's no longer "age appropriate".
Despite the stereotypes society seems to place on people our age, more of us are actually resisting the urge to conform to what it means to be an older person.
We here at Starts at 60 have noticed a trend of older celebrities pushing the envelope when it comes to what they wear and how they present themselves.
Ad. Article continues below.
For example, 59-year-old pop star Madonna isn't afraid to flash some flesh at some of the lavish red carpet events she attends.
Read more: Madonna hits out at critics who say she needs to dress age appropriately
She caused controversy last year when she attended the famous Met Gala with her breasts and buttocks exposed for everyone to see.
For a long time, society has told us that this isn't acceptable and as you would imagine, glossy magazines and gossip websites were quick to point out that Madonna needed to dress her age.
Madonna wasn't having any of it and In a lengthy Instagram post, wrote: "We have fought and continue to fight for civil rights and gay rights around the world. When it comes to Women's rights we are still in the dark ages.
Ad. Article continues below.
"The fact that people actually believe a woman is not allowed to express her sexuality and be adventurous past a certain age is proof that we still live in an age-ist and sexiest society."
Ad. Article continues below.
And it's not just older women who are causing a stir with their clothing choices. Just this week, rock star Rod Stewart ditched a boring tux on a red carpet and instead opted for a loud leopard-print suit jacket and shoes.
Read more: Rod Stewart, Joan Collins and more rock the red carpet
Others are also resisting ageing by getting plastic surgery.
In addition to stars such as Goldie Hawn, Dolly Parton, Jane Fonda and Sharon Osbourne who have all gone under the knife, everyday people are also turning to cosmetic procedures.
Ad. Article continues below.
In fact, the American Society for Aesthetic Plastic Surgery recently found that the number of people over the age of 65 getting eyelid procedures and facelifts has doubled in the past 20 years.
When we've asked readers what ageing gracefully and dressing for your age means to them, we've had a mix of answers.
---
We'll be addressing one big, social issue each day.  This is an open space for discussion and debate about the things that matter to all of us. How do you feel? What do you think? 
---
Ad. Article continues below.
One person said: "Who is it that dictates how you should dress for your age? Should it be dressing for how you feel, dressing to suit yourself and no one else?"
Another reader wrote: "I'm in my mid 60s but everything 'age appropriate' is frumpy. I buy clothes from young teen shops through to smart, business boutiques. If it looks and fits good I buy it."
A third simply added: "Nothing worse than mutton dressed as lamb."
On the flip side, there are still many of us who choose not to modify our appearance as we grow older. These people are happy to let themselves go grey, to wear clothes that younger people would typically turn their noses up at and stay away from anything that can be injected into their faces.
At what point in our lives do you think we need to start acting our age? How do you currently dress and have you ever done anything to make yourself appear younger than you actually are?