The Battle of the Sounds: The original X Factor and The Voice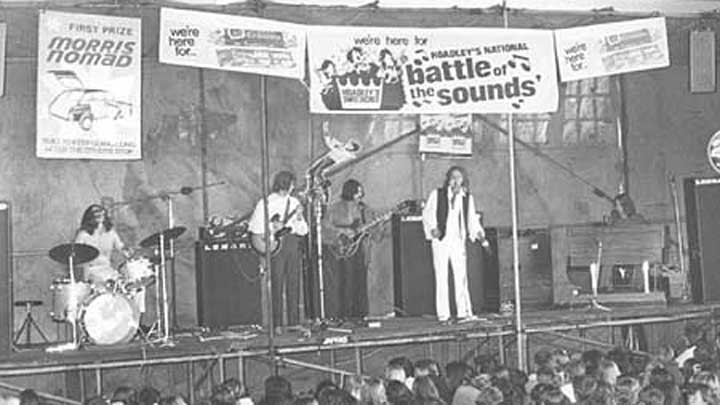 Long before X Factor and The Voice, we had The Battle of the Sounds. This was a national competition initiated by the tabloid Everybody's with finals in each capital city and a grand final in Melbourne. The first winners in 1965 were The Crickets (not Buddy Holly's) from Melbourne. In 1966 with co-ordination by GO-SET magazine, Hoadley's the chocolate manufacturers became the major sponsors and the prize was $2000 and a return trip to England on a Sitmar cruise and two concerts in London. The 1966 winners were The Twilights from Adelaide; in 1967, The Groop from Melbourne; in 1968, The Groove from Melbourne; in 1969, Doug Parkinson in Focus also from Melbourne; in 1970, we had the first Sydney winners The Flying Circus; in 1971 it was Fraternity from Adelaide and the last in 1972 and probably the most successful: Sherbet from Sydney.
When The Twilights and The Groop broke up in 1969 some of the members got together to form Australia's first supergroup Axiom. The band members were Glenn Shorrock ex The Twilights (vocals and guitar), Brian Cadd ex The Groop (vocals and piano), Don Mudie ex The Groop (bass), Chris Stockley ex Cam-Pact (guitar), and Doug Laverty ex The Valentines (drums). They released their first single "Arkansas Grass" which peaked at #7. Doug Laverty was replaced on drums by Don Liebler ex The Avengers and their biggest hit followed in April 1970, "A Little Ray Of Sunshine". The band then decided to head to the UK where they had an unsuccessful three years contract with Warner Brothers. Glenn Shorrock returned to Australia to join The Little River Band in 1974. Brian Cadd returned to a very successful solo career. Chris Stockley returned to join The Dingoes and Don Liebler decided to stay in England and join up with The Mixtures.
Other 60s music award winners were The King of Pop – in 1967 and 68 Normie Rowe was the winner, the next five years it was Johnny Farnham's crown, in 1974 Jamie Redfern, the following three years it was Daryl Braithwaite on the back of Sherbet's success and in 1978 John Paul Young.
Ad. Article continues below.
The Queen of Pop winners were 1969 to 1971, Allison Durbin; 1972 and 1973, Colleen Hewitt; 1974 and 1975, Debbie Byrne; and 1976 to 1978, Marcia Hines.
Do you remember watching The Battle of the Sounds? Who was your favourite winner/s?