What do you do when you find a barbecue in the street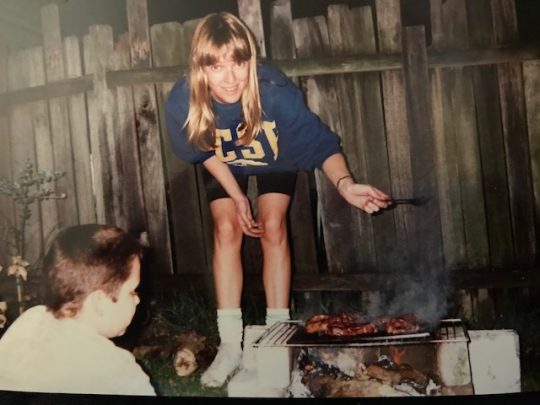 One year when I had made the trip back to Australia to see the parents — I must have been about 33 or 34  — my sister and I had an idea to have a backyard barbecue, the only problem was, we did not have a barbecue in the backyard.
As I wasn't living in Sydney at this time,  my sister Liz had the bright idea to make a barbie. Our sons were both seven or eight years old and they thought it was a wonderful idea!  It also happened  to be clean up that week, so the boys and  Liz and I decided to raid Harold Street at Matraville, New South Wales looking for bricks and grills and wood for the barbie.
There were piles of rubbish everywhere on the street waiting for clean up.  
We were on a mission to find the make-shift barbcue. Up one side and down the other all the way to the end of Harold Street we searched. My oldest son Vidans, Vee for short, was with me and Jaime was with his mum: the kids were yelling back and forth to each other.  I was on the right side  of the street,  my sister on the left.
Suddenly,  Liz let out a yell, "I've found everything!" 
Ad. Article continues below.
There was a pile of rubbish from a building site, and there were our bricks, our wood and a great big stove with a griller in it, just waiting for us.  Awesome!
The next thing we had to do was get the stuff from the end of the street to our house at the other end.  With all four of us, it should have been a breeze to carry our loot up to the backyard.
I gave my son the grill to carry with three bits of wood on top of that. Liz gave her son four bricks to carry in his arms. I carried about five bricks in my jumper and Liz carried her bricks the same way. The four of us looked rather comical making out way up the street. The kids were trying to act strong and tough with all their bricks and wood but it was beginning to wear on them; I even felt a bit worn out as I carried my bricks. Talk about a workout. We had to stop twice to rearrange the loads.
We all made it back to mum's house in one piece; not a broken or smashed toe or foott, just a bit dirtier and a bit hungrier. 
As I  got into the kitchen, Liz and the kids were making the barbie, and my mum says, "So what are you going to cook? We only have four sausages left. You need to get to the shops before they close."
Ad. Article continues below.
I yelled at my sister through the kitchen window that we had no food and her response was priceless, "Ah stuff it, well go to the fish shop and get some fish and calamari."
Off I went to the fish shop to get the food.  When I came back Liz had go the fire started with wood and paper and it was blazing!
Mum found some sausages in the fridge and some soy and garlic sauce for the calamari. The kids were starving so we fed them first. All that carrying of bricks and things they deserved to eat first. We gave them sausages in bread with sauce — no onions and soft drinks.  Mum, Liz and I then ate the calamari.  It was all so delicious  and made tastier and  more scrumptious because we all made the barbecue  together.
It might have been 30 years ago but we still talk about the night we found our barbecue on the street and brought it home to cook on it in our backyard.
What have you found around the place that has made your life a bit better? What is an event you still talk about 30 years on? Share it with us.
Keen to put pen to paper, or fingers to keyboard, to share your thoughts with other 60-pluses? You can sign up as a contributor and submit your stories to Starts at 60 here, and join the Starts at 60 Bloggers Club on Facebook here to talk to other writers in the Starts at 60 community and learn more about how to write for Starts at 60.